Your Essential Guide to Creative Romance Month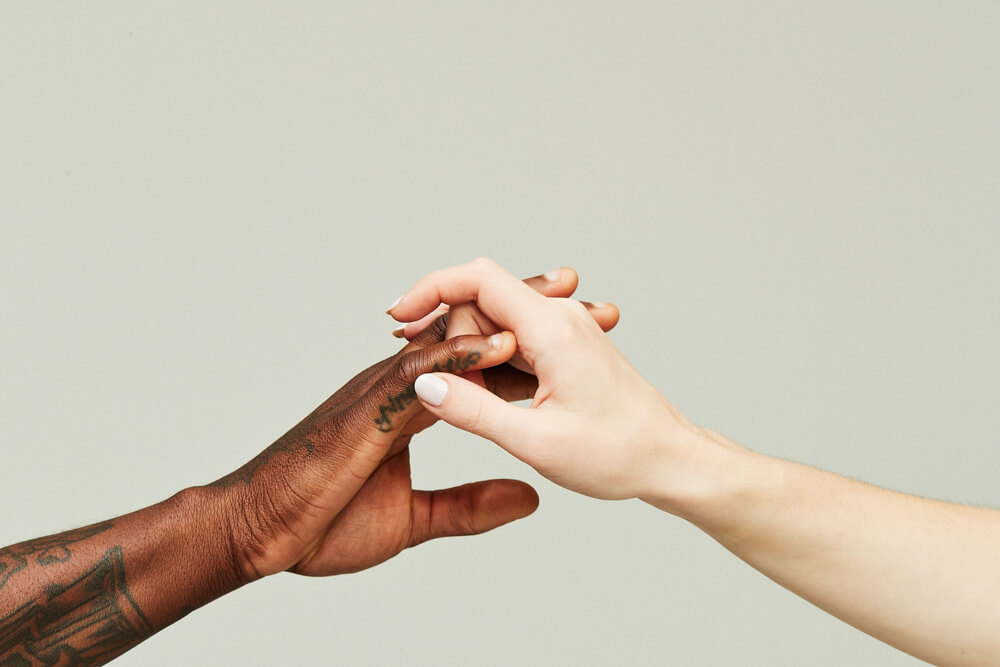 February is for romance. Creative romance. Here are some ideas and stats to help you show some love to your partner this month.
Roses Are Red, Violets Are Blue, You Want More Sex, & Your Partner Does, Too
Valentine's Day is upon us, but it doesn't have to be all chocolates and roses. Research suggests that your significant other may only want one simple thing this V-day: sex. Polling has found that while most men (around 66%) say they would prefer a roll in the sack over a Valentine's Day gift, a significant 30% of women say the same. The day of love also happens to be the holiday when millennials say they have the most sex, so strip down, aim your cupid's bow and gift your partner the goods.
Build the Anticipation
Unless it falls on a weekend, chances are high you'll have to spend most of Valentine's Day away from your beloved, but that doesn't mean you can't start turning them on from afar. Send a series of naughty texts throughout the day describing what you want to do to them, and encourage them to reciprocate for a steamy back and forth that heightens the sexual tension. Once you're home, focus on your flirtation and spend extra time on foreplay and exploring new ways to turn your partner on, like stimulating normally ignored body parts.
Get Out of The Bedroom
It's easy to fall into bed at the end of a long day full of work, errands and responsibility, but don't let your sex life fall into a location rut. This Valentine's Day, enact a no-bedroom rule for sex and give somewhere else in your living space a chance. Seventy-four percent of millennials have had shower sex, but give somewhere like your kitchen table or stairwell a try. If you're feeling extra adventurous, find a not-so-private public space to heighten the thrill of the moment.
Up the Kink & Act Out Your Fantasies
A whopping 71% of people say they wish they had more kink or fantasy in their sex lives. If your idea of a kinky twist is reserved solely for sub/dom leather sports but you want to give something else a try, there are plenty of options. One simple way to stoke the fire is incorporating couples toys into your intimacy and the trip to a sex shop doubles as an adventurous date for you and your partner. For your special Valentine's Day sex, try roleplaying by pretending you're strangers, or incorporate something more cinematic, like watching each other's favorite porn together.
If unleashing your innermost desires makes you squirm (but not in a good way), intimate relationship services like Simpatic help you and your partner discover shared desires and fantasy, removing the guesswork from sex.
Gettin' Sexy When You're Single
Of course, sexytime isn't reserved for your friends in relationships. There are plenty of ways to spice up your self-love, be it with toys, stimulating other areas of your body or exploring different brands of lubricants.
If you want in on the partner action this Valentine's Day, dating apps make it easy to find participants who are eager to spend a no-strings-attached night in the sack. Tinder alone records a massive 2 billion swipes every day. If you do decide to find some new action by swiping right, remember Valentine's Day is also National Condom Day, so stock up and play it safe.
Everlasting Romance Starts With You
Between rounds, make sure to remind your partner how much they mean to you with a romantic gesture. February is Creative Romance month, which gives you 28 days to show how much you care. Add a twist to your normal night out by recreating your first date, slip a surprise love note in your partner's bag before they head to work, or make a dinner at home together paired with their favorite bottle of wine. Check out our Creative Romance Month calendar for some added inspiration: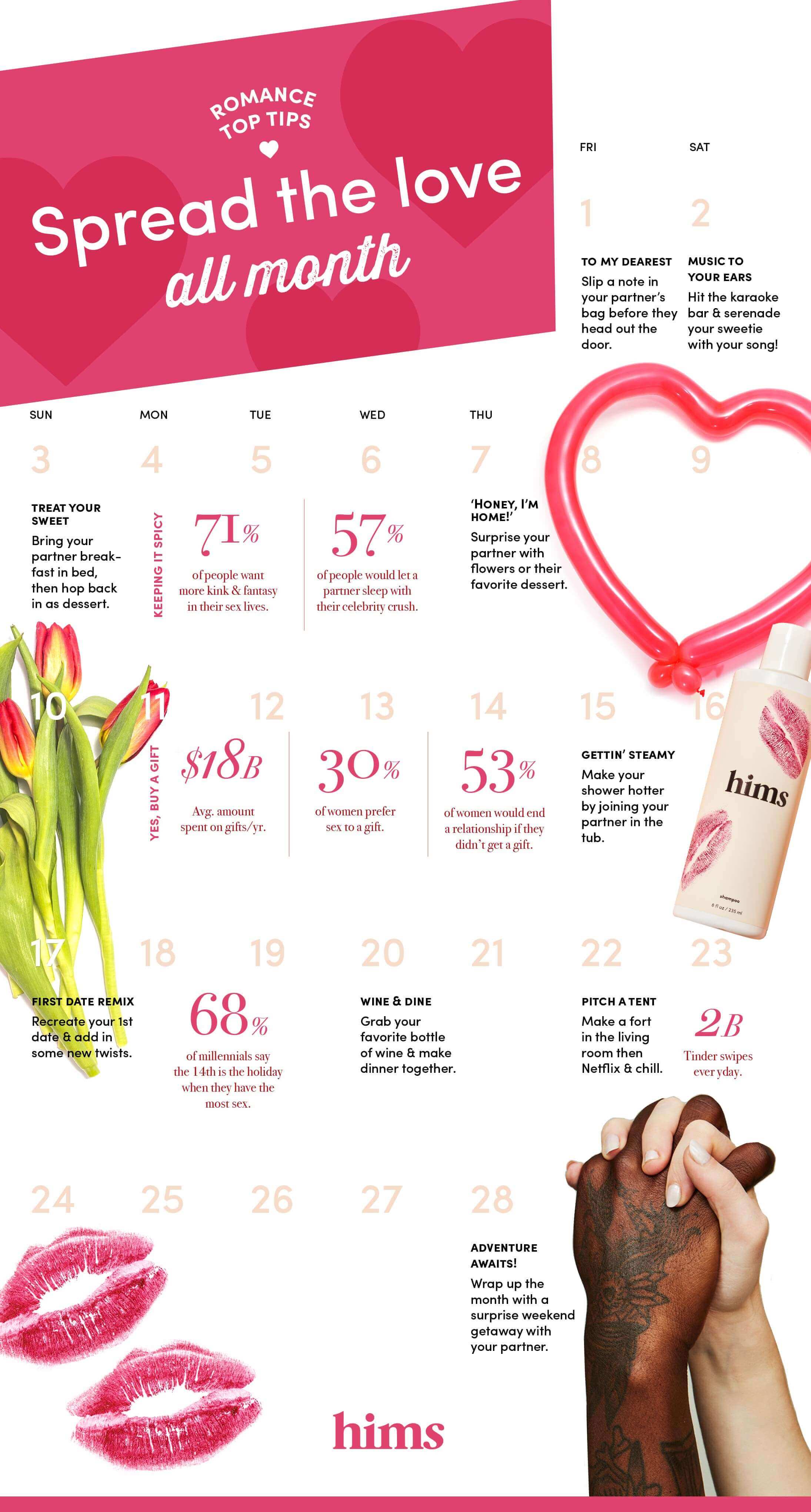 Share this Image On Your Site

Make sure you come to the bedroom (or bathtub or kitchen counter) prepared to keep up the romance if your Valentine's Day takes a sexy turn. Hims gives you access to affordable solutions to ED like Sildenafil (the active ingredient in Viagra), so you can spend your time and money on your honey.
Important Safety Information
IMPORTANT SAFETY INFORMATION
Do not take Sildenafil (sildenafil citrate) if you:
take any medicines called nitrates, often prescribed for chest pain, or guanylate cyclase stimulators like Adempas (riociguat) for pulmonary hypertension. Your blood pressure could drop to an unsafe level

are allergic to sildenafil, as contained in Sildenafil and REVATIO, or any of the ingredients in Sildenafil

Discuss your health with your doctor to ensure that you are healthy enough for sex. If you experience chest pain, dizziness, or
nausea during sex, seek immediate medical help

Sildenafil can cause serious side effects. Rarely reported side effects include:

an erection that will not go away (priapism). If you have an erection that lasts more than 4 hours, get medical help right away.
If it is not treated right away, priapism can permanently damage your penis
sudden vision loss in one or both eyes. Sudden vision loss in one or both eyes can be a sign of a serious eye problem called
non-arteritic anterior ischemic optic neuropathy (NAION). Stop taking Sildenafil and call your healthcare provider right away if you
have any sudden vision loss

sudden hearing decrease or hearing loss. Some people may also have ringing in their ears (tinnitus) or dizziness. If you have
these symptoms, stop taking Sildenafil and contact a doctor right away

Before you take Sildenafil, tell your healthcare provider if you:

have or have had heart problems such as a heart attack,
irregular heartbeat, angina, chest pain, narrowing of the aortic valve, or heart failure
have had heart surgery within the last 6 months
have pulmonary hypertension
have had a stroke
have low blood pressure, or high blood pressure that
is not controlled
have a deformed penis shape
have had an erection that lasted for more than 4 hours
have problems with your blood cells such as sickle cell
anemia, multiple myeloma, or leukemia
have retinitis pigmentosa, a rare genetic (runs in families)
eye disease
have ever had severe vision loss, including an eye problem
called NAION
have bleeding problems
have or have had stomach ulcers
have liver problems

have kidney problems or are having kidney dialysis have any other medical conditions

Tell your healthcare provider about all the medicines you take, including prescription and over-the-counter medicines, vitamins,
and herbal supplements.

Sildenafil may affect the way other medicines work, and other medicines may affect the way Sildenafil works, causing side effects.
Especially tell your healthcare provider if you take any of the following:

medicines called nitrates
medicines called guanylate cyclase stimulators such as Adempas (riociguat)
medicines called alpha-blockers such as Hytrin (terazosin
HCl), Flomax (tamsulosin HCl), Cardura (doxazosin
mesylate), Minipress (prazosin HCl), Uroxatral (alfuzosin HCl),
 Jalyn (dutasteride and tamsulosin HCl), or Rapaflo (silodosin).
Alpha-blockers are sometimes prescribed for prostate
problems or high blood pressure. In some patients, the use
of Sildenafil with alpha-blockers can lead to a drop in blood pressure or to fainting
medicines called HIV protease inhibitors, such as ritonavir (Norvir), indinavir sulfate (Crixivan), saquinavir (Fortovase or Invirase), or atazanavir sulfate (Reyataz)
some types of oral antifungal medicines, such as
 ketoconazole (Nizoral) and itraconazole (Sporanox)
some types of antibiotics, such as clarithromycin (Biaxin),
telithromycin (Ketek), or erythromycin
other medicines that treat high blood pressure
other medicines or treatments for ED

Sildenafil contains sildenafil, which is the same medicine found
in another drug called REVATIO. REVATIO is used to treat a
rare disease called pulmonary arterial hypertension (PAH).
 Sildenafil should not be used with REVATIO or with other PAH
treatments containing sildenafil or any other PDE5 inhibitors
(such as Adcirca tadalafil)

Sildenafil does not protect against sexually transmitted diseases, including HIV.

The most common side effects of Sildenafil: headache; flushing; upset stomach; abnormal vision, such as changes in color vision
(such as having a blue color tinge) and blurred vision; stuffy or runny nose; back pain; muscle pain; nausea; dizziness; rash.

Sildenafil (sildenafil citrate) is prescription medicine used to treat erectile dysfunction (ED).

Sildenafil is not for women or children.