Will You Lose Your Hair? Watch for These 8 Signs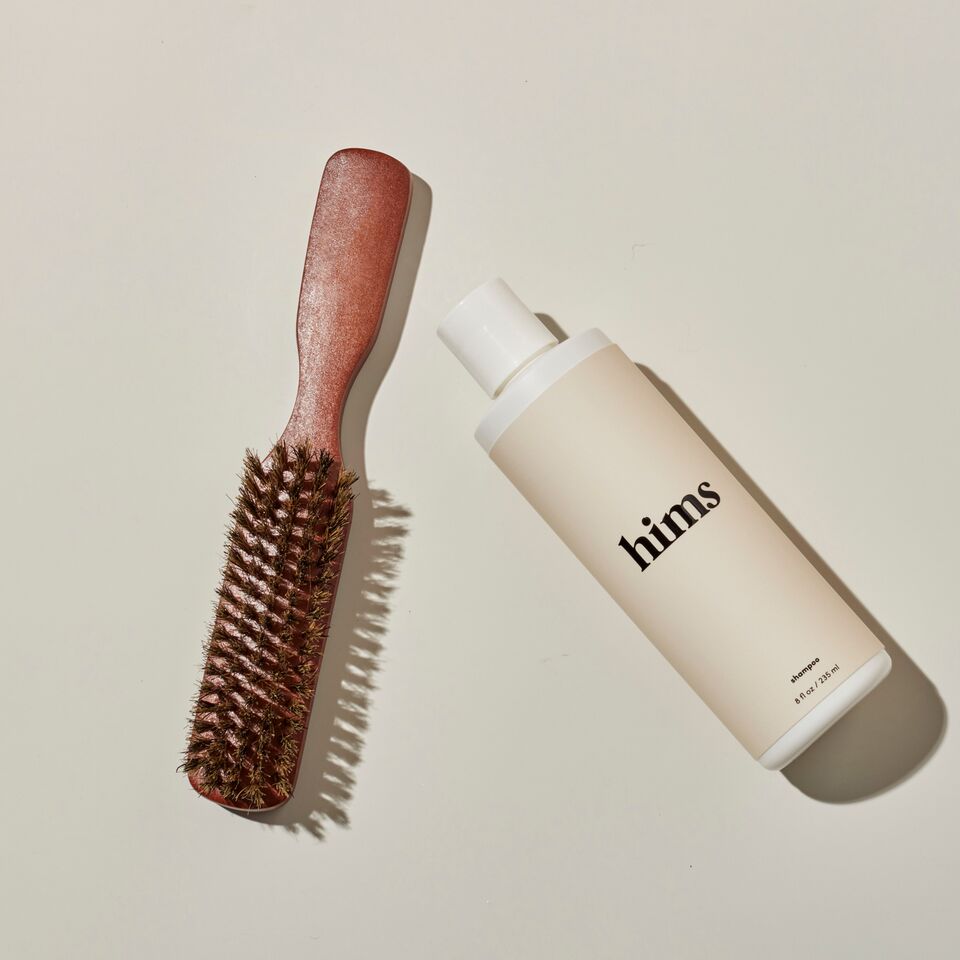 No guy wants to be told they're losing hair, but having to deal with male pattern baldness in early adulthood is an especially hard pill to swallow. For what it's worth, nearly three-quarters of men experience some degree of hair loss in their lifetime. Whether it's a thinning crown, the dreaded receding hairline, or complete balding, few guys make it their whole life without using a little bit of volume.
Still, knowing that hair loss is common doesn't exactly negate the feelings we get when we spot signs of balding. the good news is that you don't necessarily have to worry about balding just because you notice your hair's thinning. Treatment programs have come a long way in the past decade, which means that you have a far greater chance of making it to middle adulthood with the same thick head of hair that you rocked in your twenties. But before you can prevent male pattern baldness, you first need to know what to look for so that you can catch it in time.
Not Sure if You're Affected by Hair Loss? Look for the Signs of Balding
Remember, you're not going to be very successful fighting hair loss if you don't even know that your hair's falling out. Your first step should be to take a proactive approach so that you can keep track of your hair. To do that, you need to be honest with yourself and understand that male pattern baldness is something that can rear its ugly head anytime, regardless of how young and healthy you are.
Too many people have the same telltale signs of balding but choose to do nothing because of denial. They don't want to accept that their hair is thinning, so they make excuses or keep their head in the sand until it's too late.
The sooner you take action against male pattern baldness, the better your results will be. If you're stuck in a state of denial until you look in the mirror and notice most of your hair is gone, you're probably not going to have much success with hair loss treatment programs. However, if you catch it early, when your hair is just starting to thin, you can stop or reverse the effects so that you can keep the same youthful head of hair that you've always had.
How to Spot the Signs of Balding
The first thing you want to do is come up with a way to keep track of your hairline. While it sounds simple, this is actually easier said than done. Since we look at ourselves in the mirror every day, we become used to the way our hair looks. And since hair loss is a gradual change, seldom do we notice it before it's too late.
So, how do we stay on top of things? The best solution is to keep an older picture around for reference. You'll want to use a picture that gives you a good idea of what your hair used to look like before male pattern baldness started to affect you. Maybe your hairline was a few centimeters lower, or perhaps those spots around your temples were thicker. Whatever the case, pictures make good references.
Here are some other signs to look for that could be linked to balding:
Thinner patches around your hairline, usually by your temples.
You can't style your hair the way that you used to because it has lost some of its volume.
Your forehead looks like it's getting a little bit bigger because your hairline is receding.
You're finding more strands of hair falling out when you shower and brush your hair.
Your scalp isn't as protected from the sun's rays as it used to be.
Your scalp has become more noticeable over time.
It takes longer for you to regrow hair and when it grows back, it's thinner than usual.
You notice a wider gap between your hair when you part it down the middle.
Oh no! I Have Some of These Signs. What Do I Do?
First off, don't panic and get yourself all worked up. Stress is the last thing you need when fighting male pattern baldness, as it can exacerbate the issue . There's some silver lining in all of this – you can treat your hair loss without making drastic lifestyle changes. However, successful hair loss treatment requires you to be patient and willing to stick to long-term regimens.
If you're looking for a treatment that's going to solve your hair thinning problem in two weeks, you might as well try a homeopathic remedy like smearing apple cider vinegar and turmeric on your scalp twice a day (pro tip: it won't do anything but turn your hair orange and leave you smelling like old wine).
But if you're willing to put in the work and you understand that results will take a few months or longer to show, there are treatment programs available for you. Two of the most popular methods that are often used together are minoxidil and finasteride. Let's learn a little bit about them:
Minoxidil: this is a topical solution that's applied directly to the scalp, typically twice a day. It comes in 2% and 5% versions and is scientifically proven and FDA approved to stimulate hair growth and prevent male pattern baldness in 89% of men using it, and even promotes new hair growth in 50% of the men who apply it regularly. The most common side effects are itchy scalp and skin irritation, but they tend to happen to a small portion of the users.
Finasteride: it's a pill that's taken once a day at 1mg and is designed to disrupt the production of the DHT hormone linked to male pattern baldness. Not only can it stop balding in its tracks, it's FDA approved and a good portion of men noticed moderate to significant hair regrowth within the first three months of usage. In clinical trials, less than 2% of the people taking finasteride reported sexual side effects like decreased libido and difficulty maintaining erections.
If you're one of the few people who experience side effects when using these substances, make sure to stop and talk to your physician before continuing.
Important Safety Information
IMPORTANT SAFETY INFORMATION
Finasteride is for use by MEN ONLY and should NOT be used by women or children.
Read this Patient Information before you start taking Finasteride and each time you get a refill. There may be new information. This information does not take the place of talking with your healthcare provider about your medical condition or treatment.
What is Finasteride?
Finasteride is a prescription medicine used for the treatment of male pattern hair loss (androgenetic alopecia).
It is not known if Finasteride works for a receding hairline on either side of and above your forehead (temporal area).
Finasteride is not for use by women and children.
Who should not take Finasteride?
Do not take Finasteride if you:
are pregnant or may become pregnant. Finasteride may harm your unborn baby.

Finasteride tablets are coated and will prevent contact with the medicine during handling, as long as the tablets are not broken or crushed. Females who are pregnant or who may become pregnant should not come in contact with broken or crushed Finasteride tablets.
If a pregnant woman comes in contact with crushed or broken Finasteride tablets, wash the contact area right away with soap and water. If a woman who is pregnant comes into contact with the active ingredient in Finasteride, a healthcare provider should be consulted. If a woman who is pregnant with a male baby swallows or comes in contact with the medicine in Finasteride, the male baby may be born with sex organs that are not normal.

are allergic to any of the ingredients in Finasteride. See the end of this leaflet for a complete list of ingredients in Finasteride.

What should I tell my healthcare provider before taking Finasteride? Before taking Finasteride, tell your healthcare provider if you:

have any other medical conditions, including problems with your prostate or liver

Tell your healthcare provider about all the medicines you take, including prescription and nonprescription medicines, vitamins, and herbal supplements.

Know the medicines you take. Keep a list of them to show your healthcare provider and pharmacist when you get a new medicine.

How should I take Finasteride?

Take Finasteride exactly as your healthcare provider tells you to take it.
You may take Finasteride with or without food.

If you forget to take Finasteride, do not take an extra tablet. Just take the next tablet as usual.

Finasteride will not work faster or better if you take it more than once a day.

What are the possible side effects of Finasteride?

decrease in your blood Prostate Specific Antigen (PSA) levels. Finasteride can affect a blood test called PSA (Prostate-Specific Antigen) for the screening of prostate cancer. If you have a PSA test done you should tell your healthcare provider that you are taking Finasteride because Finasteride decreases PSA levels. Changes in PSA levels will need to be evaluated by your healthcare provider. Any increase in follow-up PSA levels from their lowest point may signal the presence of prostate cancer and should be evaluated, even if the test results are still within the normal range for men not taking Finasteride. You should also tell your healthcare provider if you have not been taking Finasteride as prescribed because this may affect the PSA test results. For more information, talk to your healthcare provider.

There may be an increased risk of a more serious form of prostate cancer in men taking finasteride at 5 times the dose of Finasteride.

The most common side effects of Finasteride include:

decrease in sex drive
trouble getting or keeping an erection

a decrease in the amount of semen

The following have been reported in general use with Finasteride:

breast tenderness and enlargement. Tell your healthcare provider about any changes in your breasts such as lumps, pain or nipple discharge.
depression;
decrease in sex drive that continued after stopping the medication;
allergic reactions including rash, itching, hives and swelling of the lips, tongue, throat, and face;
problems with ejaculation that continued after stopping medication;
testicular pain;
difficulty in achieving an erection that continued after stopping the medication;
male infertility and/or poor quality of semen.

in rare cases, male breast cancer.

Tell your healthcare provider if you have any side effect that bothers you or that does not go away.

These are not all the possible side effects of Finasteride. For more information, ask your healthcare provider or pharmacist. Call your doctor for medical advice about side effects. You may report side effects to FDA at 1-800-FDA1088.

How should I store Finasteride?

Store Finasteride at room temperature between 59˚F to 86˚F (15˚C to 30˚C).

Keep Finasteride in a closed container and keep Finasteride tablets dry (protect from moisture).

Keep Finasteride and all medicines out of the reach of children.

General information about the safe and effective use of Finasteride.

Medicines are sometimes prescribed for purposes other than those listed in this Patient Information. Do not use Finasteride for a condition for which it was not prescribed. Do not give Finasteride to other people, even if they have the same symptoms you have. It may harm them.