Day in and day out, we're left with too much clutter. We get to a point where we accumulate so much stuff—so many things—that we'd be lying if we said we never thought about letting it all go. Of course, the natural progression from selling all our extra stuff is to sell the house, break the lease and do whatever else we have to, to just give up everything and start new.
For some, the dream is a tiny house. Despite what many believe, tiny houses aren't just closets parked out in the middle of the woods. Their carefully and thoughtfully designed spaces that, when constructed properly, afford us all the amenities we want without any of the fluff that eventually bogs us all down.
To put it plainly, tiny houses are incredible. Not just in how they're built or how each one is different from the next, but also in the philosophy they represent; the idea of making more out of less, and living well without excess.
When you get to the point where you need to let go for a while, here are a few ideas on where to go.
Here Are 6 Tiny Houses You Can Stay In Right Now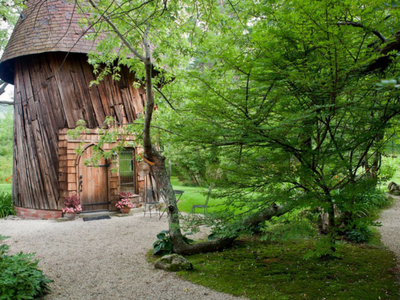 It's funny to think it, but one of the things we love most about the idea of a tiny home is the privacy and seclusion it would afford us, despite its obviously small stature and size.
But, it's true. When we think about them, we think about rustic, idyllic living spaces that take us back to a time when we weren't constantly attached to our phones and sending emails, and when "Facetime" actually meant spending time looking each other in the face and talking about things. That is the kind of mindset that thrives at the Silo Studio Cottage.
Located in Tyringham, Massachusetts, this gorgeous round Silo-style cottage on the Santarella Estate, right on the "Hop Brook," is like taking a step back in time. The downstairs sitting room overlooks the beautiful stream that runs through the property nearby, as well as the beautiful surrounding gardens. The barn door-style windows downstairs open up to allow beautiful views, and the interior décor is rustic and beautiful. You're also a short 2.5 miles away from the tail of the Appalachian Trail.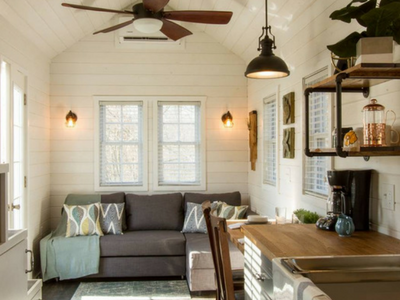 This completely modern and well designed tiny house is located on a working farm in rural Pennsylvania, which makes it an ideal getaway from the city, even for just a weekend. There's no wifi or TV, but if all that freedom becomes a little too much for you, you can take the short drive to Lititz, which was voted America's coolest small town in 2013 by BudgetTravel.com. 
The home itself is an absolutely beautiful little tiny house that includes two beds, one full bath, a small studio, as well as relaxing space outside for a fire. The beautiful décor includes white walls, hardwood floors, and beautiful wooden tables and countertops. Far as design goes, this is easily one of the most handsome houses on our list.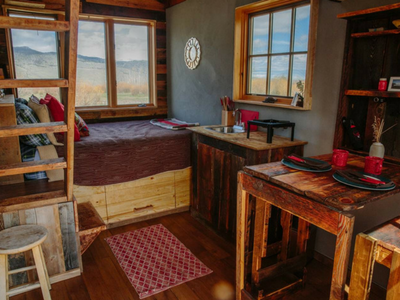 There's something about the wide open country of America's west that really puts things into perspective for us. When we found this tiny "wagon" house, located in Emigrant, Montana, near the northwest corner of the state and just 30 minutes north of the entrance to Yellowstone, we knew we'd struck gold.
Its idyllic location in Paradise Valley (Yes, really, that's what it's called) is absolutely breathtaking. Miles and miles of wide open prairie, looking out onto scenic mountain vistas… There's no word for it other than breathtaking.
The inside of this rustically gorgeous tiny house is equally impressive, with all wood flooring and furniture throughout, a small kitchenette, a small table with stools, propane heat, and a shared bathhouse just outside the main cabin, complete with hot shower, towels, etc. It's about as real as it gets out here—so real, they even include bear spray in the house. If you're the outdoorsy type and you've spent as much time dreaming about the wide open American prairie as we have, this place is perfect.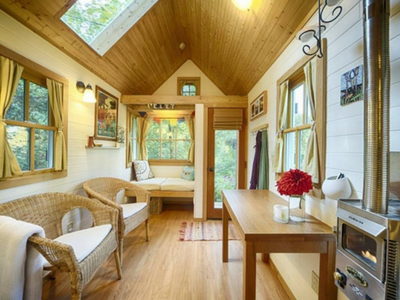 Another perfect example of how beautiful a tiny house can be, the Bayside Bungalow is set in one of the most picturesque locations in all of the Pacific Northwest, Olympia Washington. The house itself is located 15 minutes from downtown Olympia, in a beautiful, heavily wooded area that offers views of the Puget Sound. You could offer us a garden shed out here and we'd still accept the invitation.
Luckily, the house is beautiful as the view, and offers one full bedroom; a kitchen with mini fridge, cooktop, microwave, and French-press coffee maker; mini gas fireplace; loft bed with skylight; a shower and hot water. It also comes with two beautiful firepits, beach access via a trail from the property, an assortment of board games and, yes, wifi. If you've been wondering what life in a tiny house can be like, a stay here might just put you over the edge.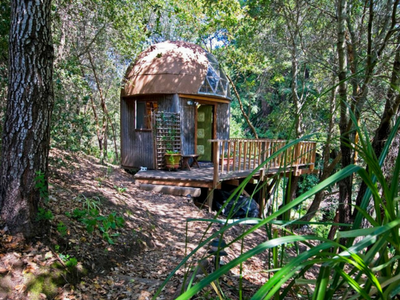 Probably the single-most popular tiny house rental on all of Airbnb (From what we gather, Airbnb actually constructed a replica of this tiny home for their office in San Francisco), the Mushroom Dome Cabin sits on 10 acres of un-fenced land, right next to a beautiful redwood grove.
It features a massive deck that juts out into the trees, with plenty of seating and a barbecue. The geodesic dome houses the Queen-sized bed, and in the rest of the house, you'll find a couch with a pull-out table, a refrigerator, a hot air popcorn popper, a French press, electric water kettle, along with a Travertine shower with skylight and a self-contained composting toilet.
The house is simple, clean and cozy.
No, you're not reading the location wrong. Somewhere, right now, in the middle of East ATL, there is a working farm. And on that working farm, there is a bamboo forest. And tucked deep inside that bamboo forest, there's this: An unbelievable, beautiful and modern tiny house, suspended 15 feet above the forest floor, complete with everything—literally everything—you need to have the best and most relaxing getaway of your life.
Apparently, you'll know you're in the right place when you see wild alpaca from the nearby "Luxury Llama Cottage" running around. No, we aren't kidding, and yes, that's a real place.
The owner of the Atlanta Alpaca Treehouse describes the space as their "charm-filled, storybook jewel box." We're not ones for too much sugary theatrics, but we will say the place is absolutely stunning, regardless of whether you call it a tree house, a tiny house, a bamboo bungalow, or whatever other verbiage you'd use to describe it.
It can sleep four guests, features one bedroom with two luxe beds, and also includes power, AC/heat, a beautiful full marble bathroom, a wrap-around porch/deck/thing, hardwood floor throughout and really beautiful natural lighting that pours in through the home's many windows.
Aside from the absurd story you'll be able to tell your buddies about that time you stayed in a tiny tree house in the middle of a bamboo forest on some weird alpaca farm in the middle of Atlanta, you'll also have one of the most memorable weekends of your life.