Trick or Treat Yo'self This Fall
Halloween isn't just for the kids, costume parties and candy are for adults too! Whether you take your kids trick or treating or you can't resist picking up a bag of snack size Reese's cups at the store, Halloween can bring a lot of candy into your life.
While the bowls of treats around the office and in your cupboards are filled with fun-size candies, eating a handful of them can add a lot of extra calories to your day. To combat this, you can certainly add more reps to your gym routine or you could continue to treat yourself in other ways – like burning some calories off between the sheets.
How Many Calories Does Sex Burn?
A session in the sack does more than make you feel great mentally, it can also count as a workout. One study of 21 heterosexual couples in Montreal looked into how many calories sex burns based on gender.
For men, sex burns more than 100 calories while women only burn 69 calories. The results show that sex burns an average of 3.6 calories per minute.
While sex may not be the most effective workout in terms of calories burned per minute, it's still a fun reason to log more time in bed with your partner in the name of health. Some sex positions are better for burning calories than others, too. Take doggy style for example– this move engages a woman's core and glutes.
Fitness suggests women put their hands up on a wall or headboard and use their arms to help thrust for an added arm workout. Any excuse to mix it up in bed is a good one!
Burn Off Your Halloween Candy Calories With Sex
To help you out this spooky season, we looked at the calorie count of popular fun size Halloween candy and calculated how long a sex session should be to burn them off.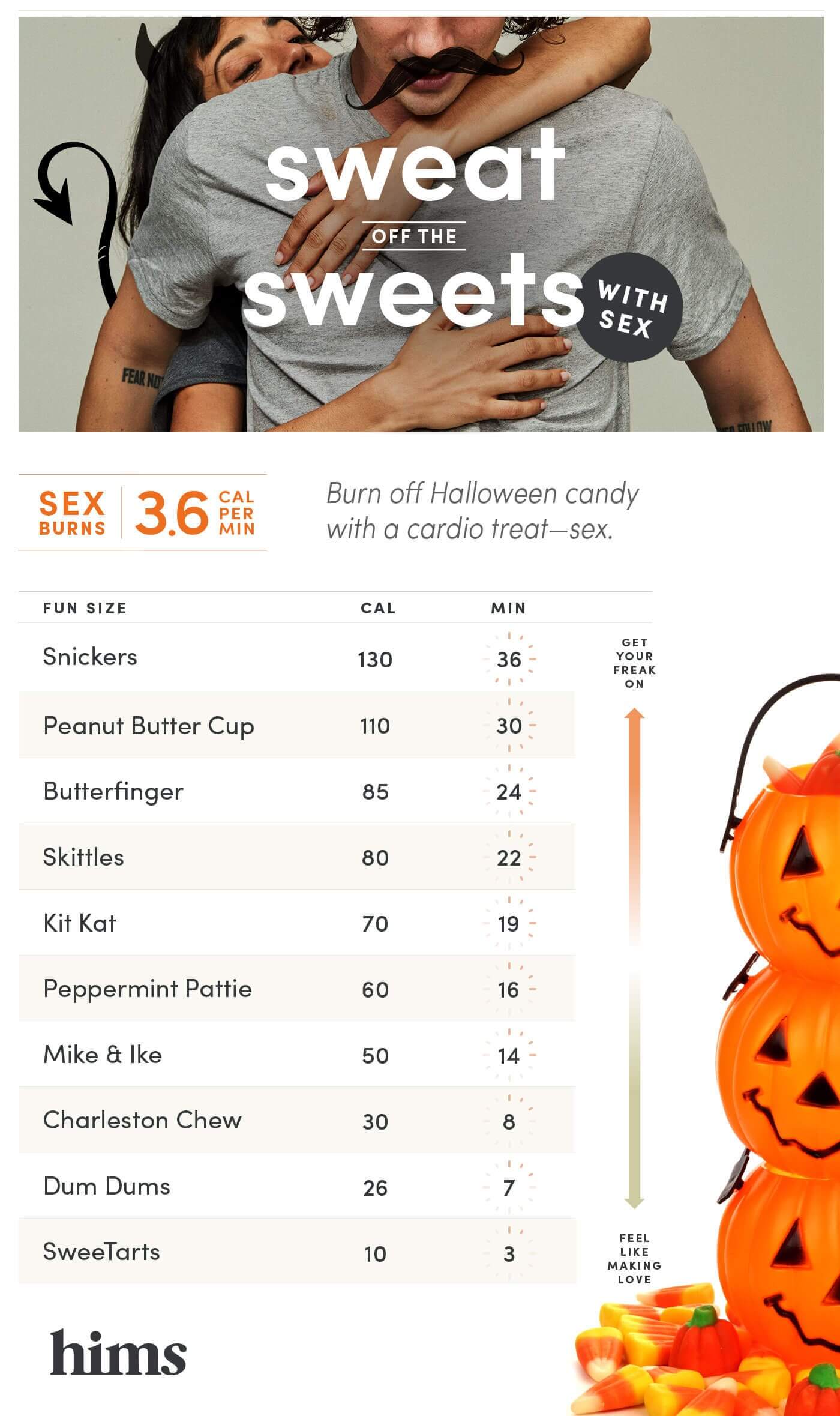 Your Sexual Health is Part of Your Overall Health
Your overall health and wellness contribute to your ability to perform in the bedroom, so continually examine your lifestyle habits and analyze where you can improve your fitness and nutrition.
Remember, every good diet and fitness routine should prioritize balance in your life, including a Halloween treat every now and then this fall.
However, if you're struggling with sexual dysfunction, hims is here to help. If you're experiencing erectile dysfunction and feeling like you don't have the confidence to burn fun size calories in bed, hims offers prescription sildenafil (main ingredient in Viagra, generic Viagra) to men.
We'll connect you with a doctor who can get you the prescription you need to get you back to humming Marcy Playground's hit while you head to the bedroom with your partner.