Stubble to Shaven: Which Facial Hair Style is the Sexiest?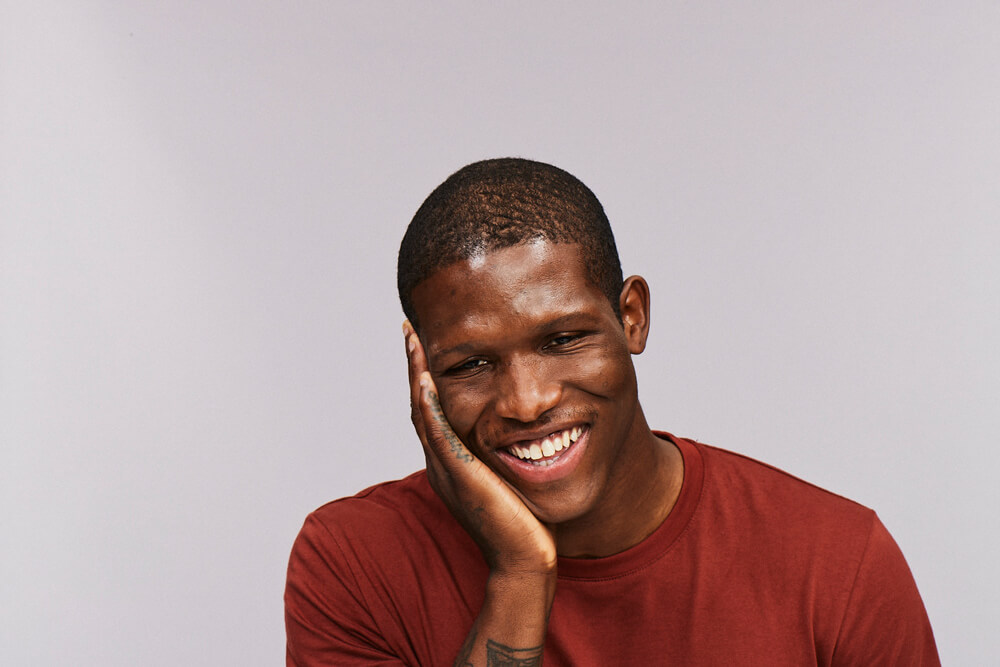 No matter where you live, fall is the time to pull out your worn-in flannels and head to a pumpkin patch or apple orchard for the experience—and the Instagram content. For many men, fall means it's time to let your beard grow out, too.
The Movember Foundation and No-Shave November are two well-known non-profits that encourage facial hair growth in November. Movember's mission is to raise funds and awareness for prostate cancer, testicular cancer, mental health, and suicide prevention. They encourage participants to grow a mo (a mustache) and get involved in other Movember community events to spread the mission to other men. Similarly, No-Shave November aims to raise cancer awareness by inviting participants to grow their hair—facial or otherwise—for the entire month and donate their grooming expenses to the cause.
Not only are both organizations fighting for noble causes, but they are also giving men an added benefit that's backed up by research: men and women find men with facial hair more attractive.
How Facial Hair Can Improve Your Sex Life
If you're a single male, research from the Journal of Evolutionary Biology shows that your facial hair (or lack thereof) impacts the odds of you attracting a short-term relationship or a long-term partner.
In the study, researchers asked 8,520 women to rate the attractiveness of men with varying levels of facial hair. The result? Beardedness plays a large role in a man's perceived sex appeal and masculinity.
The majority of women in the study perceived men with stubble as the sexiest and fun—great news for whiskered men who are still playing the field.
Do you look like you could chop wood and build a cabin? Are you also feeling ready for marriage and children? Great, because the results also show that, when it comes to long-term relationships, women prefer men with full beards. The reasoning goes back to our primal instincts: women view men with beards as more mature, manly, aggressive, and most likely to be industrious enough to provide for a family and defend against predators.
While this study didn't call out mustaches specifically, a recent study from the dating site Plenty of Fish explored what single women thought of men with 'staches and the results were positive! While the mouth brow sometimes gets a bad rap (unless you're Tom Selleck), single women find Movember mustaches attractive. Women find men who embrace the charitable mission behind Movember that much sexier.
Beard Breakdown: Which Facial Hair Style is Sexiest?
Charity or no charity, we created this handy visual to help you remember what science has taught us about how your facial hair can lead to more flings or a rock-solid relationship.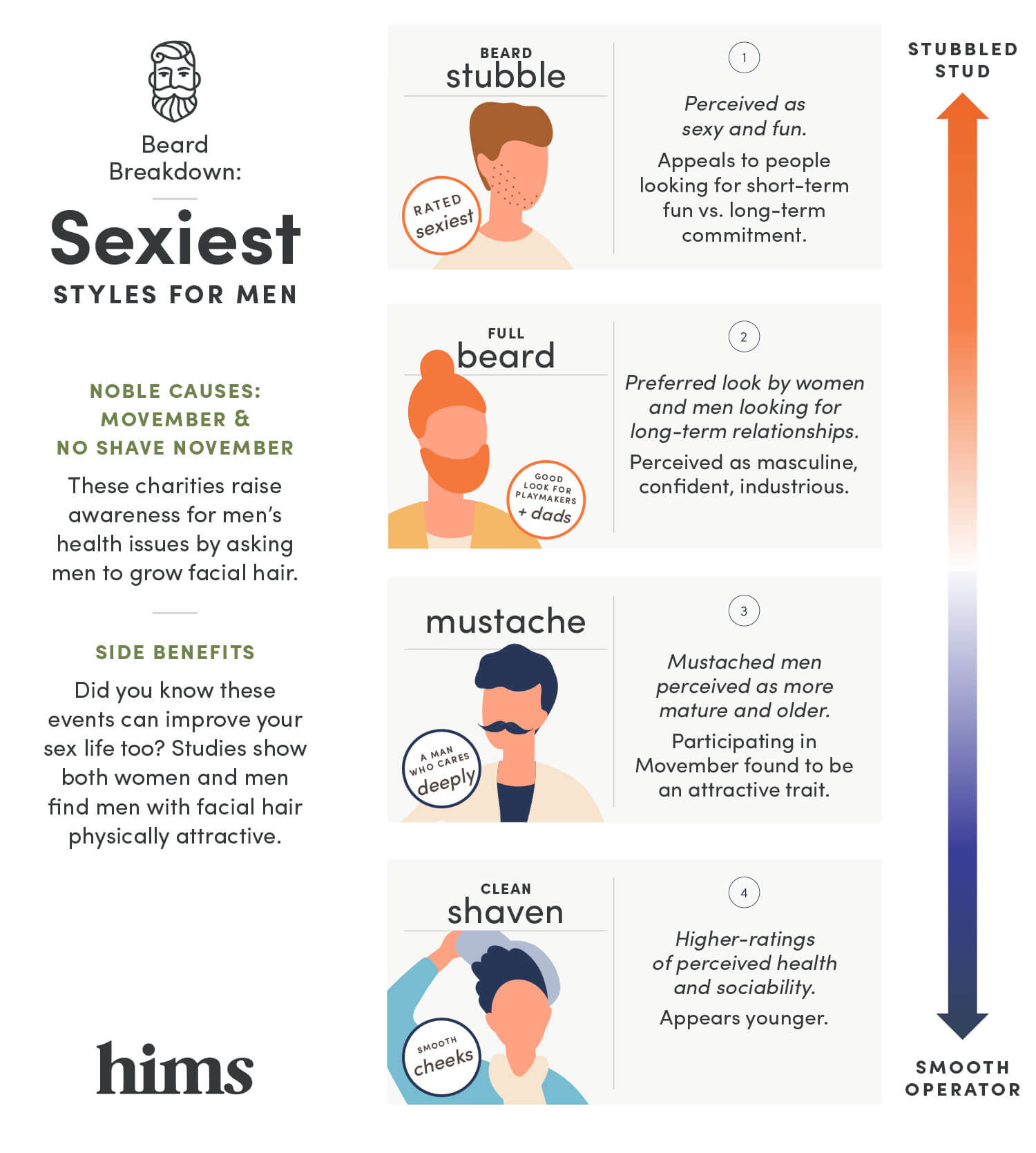 Not Feeling Particularly Hairy or Sexy? Hims Can Help
While hims's hair products can't help you grow a bushy 'stache or a full beard that would make Paul Bunyan blush, hims offers a full line of hair loss treatments to help with the hair on your head in case you're feeling a little thin and less-than-confident. Our Biotin Gummies can help with overall hair and nail strength, so add them to your vitamin routine for good measure.
If you have the stubble covered but need a boost in the bedroom, hims also offers sildenafil for erectile dysfunction. Performance anxiety and ED are very real, common, and treatable things men suffer from, but hims makes it easy to put those worries to bed so you can get back to having fun in yours.
Important Safety Information
IMPORTANT SAFETY INFORMATION
Do not take Sildenafil (sildenafil citrate) if you:
take any medicines called nitrates, often prescribed for chest pain, or guanylate cyclase stimulators like Adempas (riociguat) for pulmonary hypertension. Your blood pressure could drop to an unsafe level

are allergic to sildenafil, as contained in Sildenafil and REVATIO, or any of the ingredients in Sildenafil

Discuss your health with your doctor to ensure that you are healthy enough for sex. If you experience chest pain, dizziness, or
nausea during sex, seek immediate medical help

Sildenafil can cause serious side effects. Rarely reported side effects include:

an erection that will not go away (priapism). If you have an erection that lasts more than 4 hours, get medical help right away.
If it is not treated right away, priapism can permanently damage your penis
sudden vision loss in one or both eyes. Sudden vision loss in one or both eyes can be a sign of a serious eye problem called
non-arteritic anterior ischemic optic neuropathy (NAION). Stop taking Sildenafil and call your healthcare provider right away if you
have any sudden vision loss

sudden hearing decrease or hearing loss. Some people may also have ringing in their ears (tinnitus) or dizziness. If you have
these symptoms, stop taking Sildenafil and contact a doctor right away

Before you take Sildenafil, tell your healthcare provider if you:

have or have had heart problems such as a heart attack,
irregular heartbeat, angina, chest pain, narrowing of the aortic valve, or heart failure
have had heart surgery within the last 6 months
have pulmonary hypertension
have had a stroke
have low blood pressure, or high blood pressure that
is not controlled
have a deformed penis shape
have had an erection that lasted for more than 4 hours
have problems with your blood cells such as sickle cell
anemia, multiple myeloma, or leukemia
have retinitis pigmentosa, a rare genetic (runs in families)
eye disease
have ever had severe vision loss, including an eye problem
called NAION
have bleeding problems
have or have had stomach ulcers
have liver problems

have kidney problems or are having kidney dialysis have any other medical conditions

Tell your healthcare provider about all the medicines you take, including prescription and over-the-counter medicines, vitamins,
and herbal supplements.

Sildenafil may affect the way other medicines work, and other medicines may affect the way Sildenafil works, causing side effects.
Especially tell your healthcare provider if you take any of the following:

medicines called nitrates
medicines called guanylate cyclase stimulators such as Adempas (riociguat)
medicines called alpha-blockers such as Hytrin (terazosin
HCl), Flomax (tamsulosin HCl), Cardura (doxazosin
mesylate), Minipress (prazosin HCl), Uroxatral (alfuzosin HCl),
 Jalyn (dutasteride and tamsulosin HCl), or Rapaflo (silodosin).
Alpha-blockers are sometimes prescribed for prostate
problems or high blood pressure. In some patients, the use
of Sildenafil with alpha-blockers can lead to a drop in blood pressure or to fainting
medicines called HIV protease inhibitors, such as ritonavir (Norvir), indinavir sulfate (Crixivan), saquinavir (Fortovase or Invirase), or atazanavir sulfate (Reyataz)
some types of oral antifungal medicines, such as
 ketoconazole (Nizoral) and itraconazole (Sporanox)
some types of antibiotics, such as clarithromycin (Biaxin),
telithromycin (Ketek), or erythromycin
other medicines that treat high blood pressure
other medicines or treatments for ED

Sildenafil contains sildenafil, which is the same medicine found
in another drug called REVATIO. REVATIO is used to treat a
rare disease called pulmonary arterial hypertension (PAH).
 Sildenafil should not be used with REVATIO or with other PAH
treatments containing sildenafil or any other PDE5 inhibitors
(such as Adcirca tadalafil)

Sildenafil does not protect against sexually transmitted diseases, including HIV.

The most common side effects of Sildenafil: headache; flushing; upset stomach; abnormal vision, such as changes in color vision
(such as having a blue color tinge) and blurred vision; stuffy or runny nose; back pain; muscle pain; nausea; dizziness; rash.

Sildenafil (sildenafil citrate) is prescription medicine used to treat erectile dysfunction (ED).

Sildenafil is not for women or children.