Why Over-the-Counter ED Drugs May Not Be Worth the Risk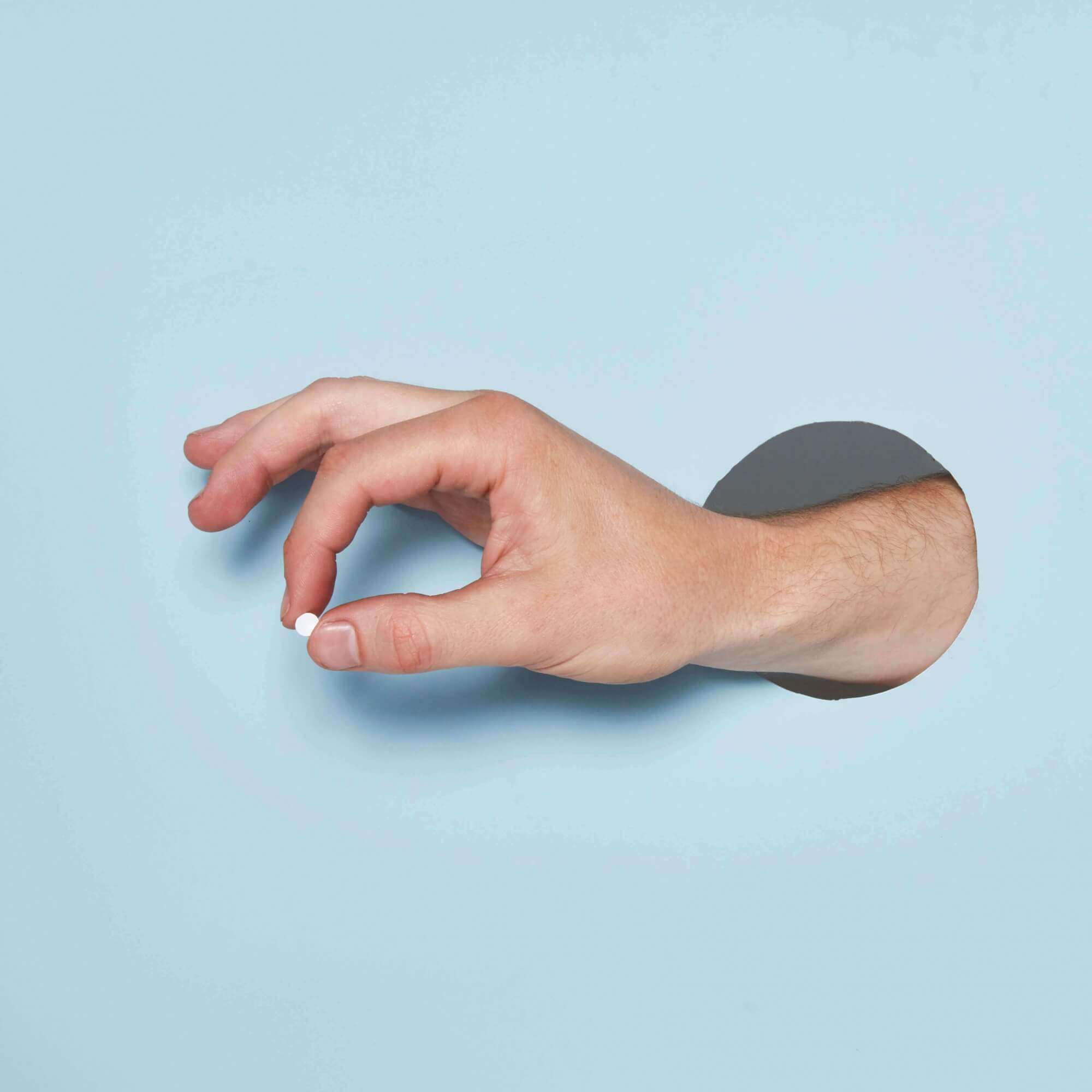 When you have a cold, you probably head to the drug store for cough medicine and throat lozenges. If you have a headache you might pick up some acetaminophen or ibuprofen. Over-the-counter medications are available for a wide variety of ailments and they are easy to come by and inexpensive.
But what about over-the-counter erectile dysfunction medications?
Brand-name ED drugs like Viagra and Cialis require a prescription and they can cost upwards of $50 per pill. High prices and the hassle of obtaining a prescription drive many men with ED to seek out other options including over-the-counter (OTC) erectile dysfunction drugs.
So, what over-the-counter ED medications are out there, and do they actually work? Keep reading to find out why over-the-counter ED drugs may not be worth the money (or the risk).
What Are the Most Popular OTC Erectile Dysfunction Drugs?
If you take a stroll through the aisles at your local drug store, you'll probably come across a variety of options for over-the-counter erectile dysfunction supplements. Some of the most popular products on the market include the following:

Extenze

Libido Max

Male Extra

Virectin

VigRX Plus

Vimax
When shopping for OTC erectile dysfunction remedies, you'll find that most products are marketed as "male enhancement" pills. Many of these products are designed for more than just boosting erectile function – some of them also increase stamina, improve libido, and boost testosterone levels. Now, let's take a closer look at these over-the-counter male enhancement products:
Extenze

– Easily one of the most popular male enhancement products on the market, Extenze claims to be 100% natural and more effective than other products. Unfortunately, these claims don't seem to hold water – most of the ingredients have not been clinical proven to be safe or effective and the majority of customer testimonials suggest that it isn't very effective

.

Libido Max

– Made with natural ingredients like L-arginine, horny goat weed, and yohimbe, Libido Max is designed to boost circulation and testosterone levels in order to enhance male performance. While this supplement is made from many natural ingredients, there are instances where users reported negative side effects and some people found it to be ineffective.

Male Extra

– Manufactured by Marlia Health Innovations in the UK, Male Extra claims to produce bigger, harder erections while also enhancing sexual ability. It features key ingredients like pomegranate, L-arginine, and creatine to improve circulation.

Virectin

– One bottle of this product will cost you about $45 but it is designed to boost libido, improve testosterone levels, and enhance sexual pleasure. It contains 16 key ingredients including amino acids and pro-sexual nutrients designed to improve blood vessel dilation.

VigRX Plus

– Intended for long-term use, VigRX Plus contains 10 natural ingredients such as ginkgo leaf, Asian red ginseng, and Catuaba bark to enhance stamina and male performance. It takes 30 to 60 days of daily use to build up the effectiveness, but the manufacturer claims that it is over 70% effective

.

Vimax

– Made with ingredients like ginseng, ginkgo biloba, and saw palmetto, Vimax is a natural male enhancement product, though reviews suggest that dosages for the active ingredients could be higher. It is also lacking in L-arginine which is one of the most beneficial natural supplements for male enhancement

.
Before you put anything new into your body, you need to make sure that it is safe. Read the packaging to determine the ingredients in the product and take some time to do your own research. Remember, products marketed as nutritional supplements are not held to the same FDA standards as prescription medications, so just because something is on a drug store shelf doesn't mean it's safe. In fact, the FDA has issued health warnings about numerous OTC male enhancement pills – here are some of the products included on that list:
Man Up Now

Stiff Nights

Rock Hard Weekend

Duro Extend

Vigor-25

Magic Power Coffee

Time Out

Mr. Magic Male Enhancer

Vitalex

Xiadafil VIP
What is it about these products that made the FDA issue a health warning? For many of them, it is a problem with the purity or safety of the ingredients. For example, Man Up Now is made with sulfoaildenafil, a chemical similar to the active ingredient in Viagra, sildenafil. Though similar in chemical structure, sulfoaildenafil has not undergone the same degree of clinical testing as sildenafil and it has the potential to cause serious drug interactions. The FDA demanded that the manufacturers of Mr. Magic Male Enhancer recall the product because the two main ingredients (hydroxyhomosildenafil and sulfoaildenafil) were not included on the list of ingredients.
Many of these products (and some of those from the previous list) contain other chemicals, some of which have not been tested. It is important to remember that even if products are described as "natural" or as an "herbal remedy" on the label doesn't mean that they are safe – health claims like this are not closely regulated and there is no official FDA-approved definition or requirement. When it comes to over-the-counter male enhancement products, the risks are simply too high to justify the lower price tag compared to prescription ED drugs.
What About Natural Remedies?
In addition to the over-the-counter ED drugs discussed in the previous section, there are also some nutritional supplements and natural remedies for ED that you may be able to find at your local drug store. For example, dehydroepiandrosterone (DHEA) has been identified by the National Institutes of Health (NIH) as "possibly effective" for the treatment of ED. The human body naturally produces this hormone, but your levels decrease with age, particularly once you hit 30. Taking 50mg per day may help improve your erectile function.
Another supplement that may benefit your erectile function is L-arginine, an amino acid that boosts nitric oxide production in the body. Nitric oxide plays a role in relaxing the blood vessels to improve circulation and studies have shown that twice daily doses up to 1,000mg may produce a significant improvement in sexual function. Pycnogenol, a nutritional supplement derived from French maritime pine bark extract, offers similar benefits. In fact, numerous studies have shown the benefits of taking these two supplements together to boost erectile function.
Other supplements that may help boost circulation and improve sexual function include ginseng, ginkgo biloba, Rhodiola rosea, and horny goat weed. Ginseng has been used as an herbal remedy for ED for decades and there is even some promising scientific research, though scientists still aren't entirely sure why this supplement benefits ED. Ginkgo biloba is one of the best-selling herbal remedies in the United States and has been used for ED, though that isn't its primary application. This supplement has also been linked to some serious side effects such as convulsions, increased bleeding, and diarrhea.
Rhodiola rosea is fairly new as an herbal remedy in the United States but has been used to enhance sexual function and boost stamina in Russian folk medicine for decades. An extract from horny goat weed leaves has been used as a remedy for ED in traditional Chinese medicine and one rat study showed promise, but no clinical trials have been tested on humans.
While the natural remedies discussed above may have some promise, it is important to remember that many natural remedies are not approved by the FDA and have not been tested for long-term safety or efficacy. Always do your own research and talk to your doctor before trying a natural remedy.
What Should You Try Instead?
If you are concerned about the severity or frequency of your erectile issues, your first step should be to speak to your doctor. With your doctor's help, you can identify the underlying cause of your ED and determine the best course of treatment. In cases where vascular issues or other health problems are to blame, taking erectile dysfunction medication might be the best option. If that's the route you select, there are several options to choose from.
With a prescription from your doctor, you can purchase brand-name erectile dysfunction drugs like Viagra (Sildenafil), Cialis, Levitra, or Stendra. Some of these drugs are intended for daily use to improve long-term erectile function and some are intended for use as-needed. ED drugs come in several different dosages as well, so you'll need to work with your doctor to choose the right one.
You should also know that there are two generic forms of Viagra currently available. Sildenafil is the generic form of the brand-name drug Viagra and it is sold by Teva and by Pfizer, the original manufacturer of Viagra. Generic sildenafil hit the market in December 2017 and it is an excellent option to consider if the price of brand-name Viagra is too high. You'll still need a prescription from your doctor to get it, but it is a good option. A generic version of Cialis is also slated for release sometime in the fall of 2018.
If you prefer not to take prescription medications for your erectile dysfunction, or if you are looking for a long-term solution to your problems, diet and lifestyle changes may be the best way to go. Increasing your consumption of lean proteins, high-fiber foods, and fresh fruits and vegetables can help improve circulation. Reducing your consumption of trans fats, fried foods, processed foods, refined sugar, and alcohol can also benefit your erectile function. In terms of lifestyle changes, try to get some regular exercise, maintain a healthy body weight, make sleep a priority, and take time to destress.
The Final Word
Erectile dysfunction is no small matter. The Massachusetts Male Aging Study conducted in 1994 reported a 52% prevalence for erectile dysfunction among men – the study also demonstrated that the condition becomes increasingly prevalent with age.
Because ED is such a widespread issue among men of all ages, it is no wonder that there are so many medications out there to treat it – prescription and over-the-counter. Unfortunately, not all ED drugs are created equal and not all of them are effective. Over-the-counter ED drugs may seem like an affordable and convenient alternative to prescription medications, but there is little concrete evidence to suggest that most of these products are effective. You must also consider the risks of taking a supplement made with ingredients that have not been tested or approved.
Your doctor will probably agree that it is better to be safe than sorry, so avoid OTC male enhancements and either go for the real deal or make some healthy changes to your diet and lifestyle to benefit your erectile function.
Important Safety Information
IMPORTANT SAFETY INFORMATION
Do not take Sildenafil (sildenafil citrate) if you:
take any medicines called nitrates, often prescribed for chest pain, or guanylate cyclase stimulators like Adempas (riociguat) for pulmonary hypertension. Your blood pressure could drop to an unsafe level

are allergic to sildenafil, as contained in Sildenafil and REVATIO, or any of the ingredients in Sildenafil

Discuss your health with your doctor to ensure that you are healthy enough for sex. If you experience chest pain, dizziness, or
nausea during sex, seek immediate medical help

Sildenafil can cause serious side effects. Rarely reported side effects include:

an erection that will not go away (priapism). If you have an erection that lasts more than 4 hours, get medical help right away.
If it is not treated right away, priapism can permanently damage your penis
sudden vision loss in one or both eyes. Sudden vision loss in one or both eyes can be a sign of a serious eye problem called
non-arteritic anterior ischemic optic neuropathy (NAION). Stop taking Sildenafil and call your healthcare provider right away if you
have any sudden vision loss

sudden hearing decrease or hearing loss. Some people may also have ringing in their ears (tinnitus) or dizziness. If you have
these symptoms, stop taking Sildenafil and contact a doctor right away

Before you take Sildenafil, tell your healthcare provider if you:

have or have had heart problems such as a heart attack,
irregular heartbeat, angina, chest pain, narrowing of the aortic valve, or heart failure
have had heart surgery within the last 6 months
have pulmonary hypertension
have had a stroke
have low blood pressure, or high blood pressure that
is not controlled
have a deformed penis shape
have had an erection that lasted for more than 4 hours
have problems with your blood cells such as sickle cell
anemia, multiple myeloma, or leukemia
have retinitis pigmentosa, a rare genetic (runs in families)
eye disease
have ever had severe vision loss, including an eye problem
called NAION
have bleeding problems
have or have had stomach ulcers
have liver problems

have kidney problems or are having kidney dialysis have any other medical conditions

Tell your healthcare provider about all the medicines you take, including prescription and over-the-counter medicines, vitamins,
and herbal supplements.

Sildenafil may affect the way other medicines work, and other medicines may affect the way Sildenafil works, causing side effects.
Especially tell your healthcare provider if you take any of the following:

medicines called nitrates
medicines called guanylate cyclase stimulators such as Adempas (riociguat)
medicines called alpha-blockers such as Hytrin (terazosin
HCl), Flomax (tamsulosin HCl), Cardura (doxazosin
mesylate), Minipress (prazosin HCl), Uroxatral (alfuzosin HCl),
 Jalyn (dutasteride and tamsulosin HCl), or Rapaflo (silodosin).
Alpha-blockers are sometimes prescribed for prostate
problems or high blood pressure. In some patients, the use
of Sildenafil with alpha-blockers can lead to a drop in blood pressure or to fainting
medicines called HIV protease inhibitors, such as ritonavir (Norvir), indinavir sulfate (Crixivan), saquinavir (Fortovase or Invirase), or atazanavir sulfate (Reyataz)
some types of oral antifungal medicines, such as
 ketoconazole (Nizoral) and itraconazole (Sporanox)
some types of antibiotics, such as clarithromycin (Biaxin),
telithromycin (Ketek), or erythromycin
other medicines that treat high blood pressure
other medicines or treatments for ED

Sildenafil contains sildenafil, which is the same medicine found
in another drug called REVATIO. REVATIO is used to treat a
rare disease called pulmonary arterial hypertension (PAH).
 Sildenafil should not be used with REVATIO or with other PAH
treatments containing sildenafil or any other PDE5 inhibitors
(such as Adcirca tadalafil)

Sildenafil does not protect against sexually transmitted diseases, including HIV.

The most common side effects of Sildenafil: headache; flushing; upset stomach; abnormal vision, such as changes in color vision
(such as having a blue color tinge) and blurred vision; stuffy or runny nose; back pain; muscle pain; nausea; dizziness; rash.

Sildenafil (sildenafil citrate) is prescription medicine used to treat erectile dysfunction (ED).

Sildenafil is not for women or children.