Minoxidil vs Finasteride: Do Either Really Work?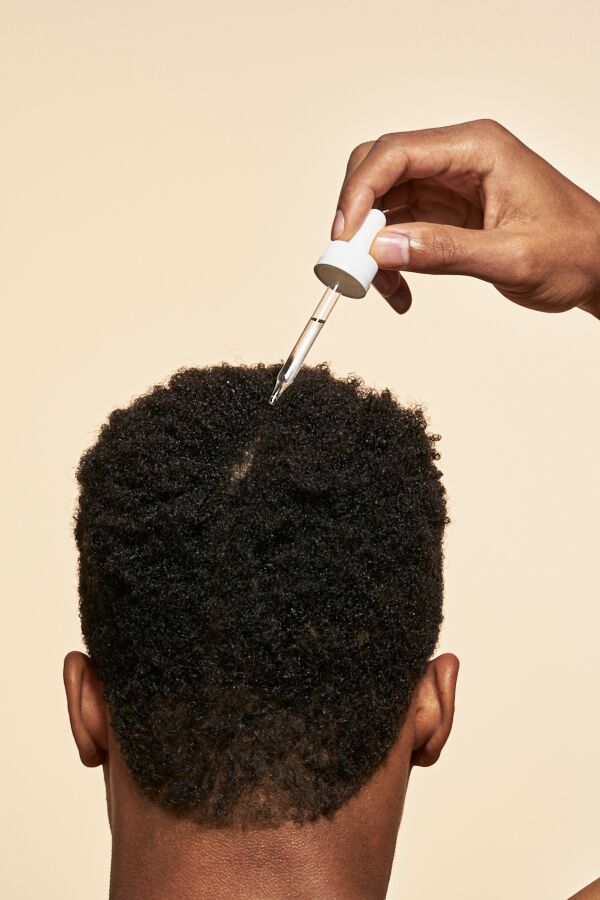 Everything you need to keep the hair on your head. If you're into that. Try hims for $5.


Search for information about hair loss drugs and you'll see two options mentioned frequently: minoxidil and finasteride.
Both drugs have been around for decades and both are widely used to treat hair loss. But do either of them work? If so, which of them is the most effective?
In this post, we'll look at how minoxidil and finasteride work, how effective they are when used properly, and how each drug compares to the other. We'll also compare their effects, since both drugs have a slightly different effect on hair loss and the growth of new hair.
Minoxidil vs Finasteride: What's The Difference?
Minoxidil and finasteride are two of the most popular hair loss treatments on the market. Both are pharmaceutical medications, and both are available either as prescription medicine or as over-the-counter treatments in most countries.
Both minoxidil and finasteride are proven to be effective at preventing hair loss. However, the two drugs work in completely different ways.
How Minoxidil Works
Minoxidil is a vasodilator. This means it widens the blood vessels and increases blood flow in certain areas of the body. Put minoxidil on your scalp and it will relax the muscle walls of the blood vessels, making it easier for blood to flow to your scalp and hair follicles.
This vasodilating effect causes more nutrients and oxygen to flow through your blood to your hair follicles, potentially promoting growth.
Technically, minoxidil doesn't stop hair loss. Instead, it actively promotes the growth of hair by causing hairs in a resting state (known as the telogen phase) to shed and replacing them with new hairs in the growing (or anagen) phase.
Because of this, one of the most common side effects of minoxidil use is rapid hair loss. This is a temporary effect that happens as your resting hairs shed. Once they're replaced with hairs in the anagen phase, minoxidil can produce a noticeably thicker head of hair.
Minoxidil is available as a spray, as a liquid, and as a topical foam. It's also available in a variety of concentrations, letting you apply a heavy or light dose of minoxidil to the areas of your scalp that are affected by hair loss.
How Finasteride Works
Finasteride is a 5α-reductase inhibitor. It prevents hair loss by stopping testosterone from being converted into dihydrotestosterone -- the powerful androgenic hormone that causes damage to hair follicles in men.
The process by which DHT affects hair is quite complicated. If you'd like to learn more, give our Guide to DHT and Male Hair Loss a read -- it explains how DHT is formed and how it causes irreversible damage to male hair follicles.
Finasteride acts like a barrier, preventing your body's testosterone from converting into DHT. By blocking testosterone from converting into DHT, it reduces your body's DHT level and stops the hormone from binding to your hair follicles and causing damage.
Because it takes quite a lot of time for DHT to damage your hair follicles, finasteride can even cause mild regrowth in patches of hair that are starting to thin.
Meanwhile, minoxidil exclusively acts as a growth agent, helping your hair grow thicker, faster and better than it normally would. Unlike finasteride, minoxidil has no known effect on DHT or other hormone production.
Do Minoxidil and Finasteride Work?
Put simply, yes. Both minoxidil and finasteride have been scientifically proven to help either stop hair loss or promote hair growth.
Finasteride has been proven to work in numerous studies. A 1998 study from the Journal of the American Academy of Dermatology shows that finasteride produces a measurable increase in hair growth on the scalp, with an average increase of over 15% after two years.
Other studies show a reduction in hair loss and a noticeable increase in hair growth over a year of use. There are even five-year studies showing durable improvements in scalp hair over long periods of time.
There are also numerous studies showing that Minoxidil is effective at promoting hair growth. In a four-month study, 74% of men judged that minoxidil improved their hair density, with 93.8% of study participants judging minoxidil as very effective, effective or moderately effective at stimulating new hair growth.
There is no shortage of hair loss treatments out there built on hype instead of results. However, countless studies show that finasteride and minoxidil are real hair loss treatments that produce real results, especially when taken long term.
Are Minoxidil and Finasteride Safe to Take Together?
Studies show that minoxidil and finasteride are safe to take together. In fact, many studies have been conducted using finasteride and minoxidil together to prevent hair loss while fueling new growth of healthy hair.
A 2015 study in the Indian Dermatology Online Journal shows that use of both finasteride and minoxidil together helps maintain a good hair density level. Interestingly, this study uses topical finasteride instead of the more common oral finasteride tablets.
Finasteride and minoxidil work through different mechanisms -- minoxidil as a vasodilator and finasteride as a 5α-reductase inhibitor that targets DHT. Since they target different parts of the body, there's no risk in taking them together.
You should always check drug interactions before beginning any hair loss treatment. If you take any other medications, it's worth talking to your doctor to make sure that they can't interact with either minoxidil or finasteride.
Minoxidil vs Finasteride: Which is Better?
Minoxidil and finasteride are different medications designed for different purposes. While both prevent hair loss and encourage hair growth, one does it at the topical level while the other is a hormonal medicine that stops hair loss at its source.
Because finasteride stops DHT production, most hair loss doctors will recommend it as a first course of action before using minoxidil. Both drugs are also commonly used together to get a stronger, more noticeable effect.
At the end of the day, the best option for hair loss depends on your personal needs. If you're interested in stopping your hair loss using finasteride or minoxidil, complete an online consultation with our expert hair loss doctors to learn more about your options.
Article reviewed by Brendan Levy, MD.
Important Safety Information
IMPORTANT SAFETY INFORMATION
Finasteride is for use by MEN ONLY and should NOT be used by women or children.
Read this Patient Information before you start taking Finasteride and each time you get a refill. There may be new information. This information does not take the place of talking with your healthcare provider about your medical condition or treatment.
What is Finasteride?
Finasteride is a prescription medicine used for the treatment of male pattern hair loss (androgenetic alopecia).
It is not known if Finasteride works for a receding hairline on either side of and above your forehead (temporal area).
Finasteride is not for use by women and children.
Who should not take Finasteride?
Do not take Finasteride if you:
are pregnant or may become pregnant. Finasteride may harm your unborn baby.

Finasteride tablets are coated and will prevent contact with the medicine during handling, as long as the tablets are not broken or crushed. Females who are pregnant or who may become pregnant should not come in contact with broken or crushed Finasteride tablets.
If a pregnant woman comes in contact with crushed or broken Finasteride tablets, wash the contact area right away with soap and water. If a woman who is pregnant comes into contact with the active ingredient in Finasteride, a healthcare provider should be consulted. If a woman who is pregnant with a male baby swallows or comes in contact with the medicine in Finasteride, the male baby may be born with sex organs that are not normal.

are allergic to any of the ingredients in Finasteride. See the end of this leaflet for a complete list of ingredients in Finasteride.

What should I tell my healthcare provider before taking Finasteride? Before taking Finasteride, tell your healthcare provider if you:

have any other medical conditions, including problems with your prostate or liver

Tell your healthcare provider about all the medicines you take, including prescription and nonprescription medicines, vitamins, and herbal supplements.

Know the medicines you take. Keep a list of them to show your healthcare provider and pharmacist when you get a new medicine.

How should I take Finasteride?

Take Finasteride exactly as your healthcare provider tells you to take it.
You may take Finasteride with or without food.

If you forget to take Finasteride, do not take an extra tablet. Just take the next tablet as usual.

Finasteride will not work faster or better if you take it more than once a day.

What are the possible side effects of Finasteride?

decrease in your blood Prostate Specific Antigen (PSA) levels. Finasteride can affect a blood test called PSA (Prostate-Specific Antigen) for the screening of prostate cancer. If you have a PSA test done you should tell your healthcare provider that you are taking Finasteride because Finasteride decreases PSA levels. Changes in PSA levels will need to be evaluated by your healthcare provider. Any increase in follow-up PSA levels from their lowest point may signal the presence of prostate cancer and should be evaluated, even if the test results are still within the normal range for men not taking Finasteride. You should also tell your healthcare provider if you have not been taking Finasteride as prescribed because this may affect the PSA test results. For more information, talk to your healthcare provider.

There may be an increased risk of a more serious form of prostate cancer in men taking finasteride at 5 times the dose of Finasteride.

The most common side effects of Finasteride include:

decrease in sex drive
trouble getting or keeping an erection

a decrease in the amount of semen

The following have been reported in general use with Finasteride:

breast tenderness and enlargement. Tell your healthcare provider about any changes in your breasts such as lumps, pain or nipple discharge.
depression;
decrease in sex drive that continued after stopping the medication;
allergic reactions including rash, itching, hives and swelling of the lips, tongue, throat, and face;
problems with ejaculation that continued after stopping medication;
testicular pain;
difficulty in achieving an erection that continued after stopping the medication;
male infertility and/or poor quality of semen.

in rare cases, male breast cancer.

Tell your healthcare provider if you have any side effect that bothers you or that does not go away.

These are not all the possible side effects of Finasteride. For more information, ask your healthcare provider or pharmacist. Call your doctor for medical advice about side effects. You may report side effects to FDA at 1-800-FDA1088.

How should I store Finasteride?

Store Finasteride at room temperature between 59˚F to 86˚F (15˚C to 30˚C).

Keep Finasteride in a closed container and keep Finasteride tablets dry (protect from moisture).

Keep Finasteride and all medicines out of the reach of children.

General information about the safe and effective use of Finasteride.

Medicines are sometimes prescribed for purposes other than those listed in this Patient Information. Do not use Finasteride for a condition for which it was not prescribed. Do not give Finasteride to other people, even if they have the same symptoms you have. It may harm them.