Hairs in the Drain or on Your Pillow? How to Tell If You're Going Bald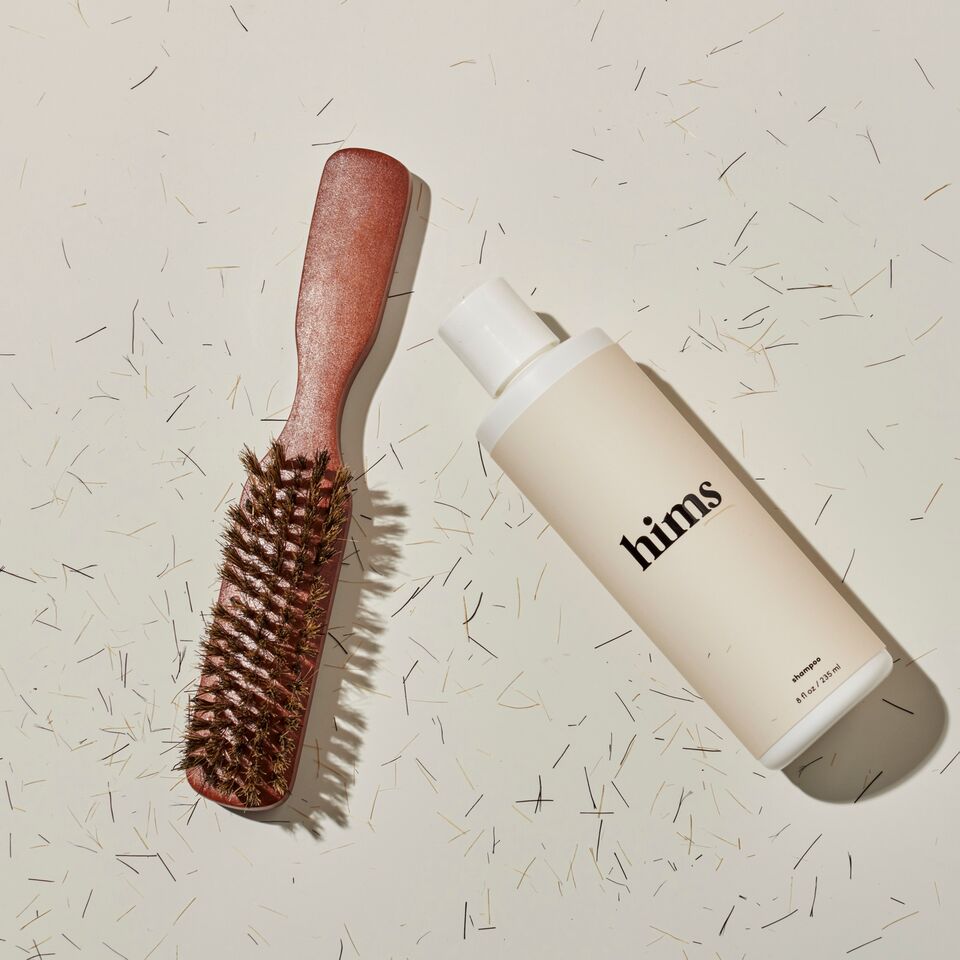 Everything you need to keep the hair on your head. If you're into that. Try hims for $5.


When you look at yourself in the mirror every day, it's easy to miss subtle changes in your appearance such as thinning hair around your temples or a receding hairline. Though these small changes may evade you, finding a clump of hair on your pillow will definitely make you sit up and take notice.
A few hairs on your pillow or in the shower drain may be nothing to worry about, but how much hair loss is too much? How do you know if your hair loss is normal or if you're starting to go bald? If you are concerned about your hair loss, take the time to learn the basics about hair loss to determine whether it's really a cause for concern.
Understanding the Hair Growth Cycle
The average person has somewhere in the realm of 100,000 hairs on their head, though this number varies to some degree depending on your natural hair color. At any time, each of those hairs is in one of three cycles of growth.
The first of these is the anagen, or growing phase. This phase lasts anywhere from two to seven years – the length of time each hair spends in this phase is largely determined by your genetics and about 85% of the hairs on your head are in this phase at any given time.
The second phase of hair growth is the catagen, or regression phase. This stage of the hair growth cycle lasts about ten days during which the follicle begins to shrink and eventually detaches from the dermal papilla, the connective tissue at the base of each hair follicle.
Once the follicle has detached, the hair enters the third phase, the telogen or resting phase. This phase lasts about three months, at the end of which the hair is shed to make room for new growth.
What Are the Risk Factors for Hair Loss?
Hair loss affects both men and women and there are a number of different types of hair loss. Androgenic alopecia, also known as male pattern or female pattern baldness, is the most common kind of hair loss and it affects men at a higher rate than women.
The primary cause of androgenic alopecia is a genetic sensitivity to dihydrotestosterone (DHT) – this hormone causes the hair follicles to shrink which leads to thinning hair and, eventually, a stoppage of hair growth.
Though genetics are the primary risk factor for androgenic alopecia, there are other types of hair loss which have risk factors of their own. Alopecia areata, for example, is an autoimmune condition in which the immune system attacks the hair follicles, causing sudden hair loss in round patches. The exact cause for this condition is unknown but research suggests that individuals with a family history of this or other autoimmune diseases may increase your risk.
Telogen effluvium, the second most common type of hair loss, is commonly brought on by severe stress or illness. It may also be triggered by sudden changes in weight, physical trauma, or crash dieting. Other potential risk factors for various forms of hair loss include hormonal changes, scalp infections, skin disorders, age, poor nutrition, and taking certain medications. For example, blood thinners, beta blockers and ACE inhibitors can all trigger hair loss.
Do You Have Any of the Top Signs of Hair Loss?
In many cases, hair loss occurs slowly over an extended period of time, so you may not even notice that it is happening. In fact, it is entirely normal to shed as many as 50 to 100 hairs every day. How do you know, then, whether your hair loss is normal or if you should be concerned? Here are some of the top signs of hair loss to be on the lookout for:
A receding hairline or widow's peak. Hair loss for men often begins with a gradual thinning of the hair on top of the head, receding from the forehead in an M-shaped line.
Overall thinning of the hair. Thinning hair usually occurs all over the head – it may be more noticeable if you part your hair and look for a widening of the gap between the hairs. This type of hair loss may lead to eventual baldness.
Round or patchy bald spots. Frequently a sign of alopecia areata, round patches of hair loss may appear anywhere on the head but it only leads to the entire loss of hair from the scalp in 1% to 2% of cases.
Sudden loosening of hair. This type of hair loss is often triggered by emotional or physical shock and it usually results in all over thinning, not baldness. You may notice handfuls of hair coming out when you wash or style your hair.
If you notice any of the signs listed above, you may be experiencing hair loss at a rate faster than normal but it doesn't necessarily mean that you are going to go bald. Some hair loss conditions only cause the hair to thin while others lead to small bald patches.
To confirm your suspicions of hair loss, find a picture of yourself from a year or more ago and make a comparison. Is your forehead more pronounced now than it was then? Is the hair around your ears a little bit thinner? Have you started to develop a bald spot on the top of your head?
Before you become too concerned about any of these signs of hair loss, understand that your condition is treatable! The treatment you choose may depend on the type and severity of the hair loss you are experiencing, so your best bet is to consult your physician for a second opinion. Once your diagnosis has been confirmed, the two of you can work together to develop a treatment plan.
Avoid the temptation to self-medicate with over-the-counter hair loss remedies because many of these are ineffective and could actually make your problem worse. There are only two hair loss treatments that have been proven to work and that are FDA approved – finasteride and minoxidil. With the help of your doctor, you can get started on the right path to slow or stop your hair loss - you may even be able to regrow some of the hair you've lost!
Important Safety Information
IMPORTANT SAFETY INFORMATION
Finasteride is for use by MEN ONLY and should NOT be used by women or children.
Read this Patient Information before you start taking Finasteride and each time you get a refill. There may be new information. This information does not take the place of talking with your healthcare provider about your medical condition or treatment.
What is Finasteride?
Finasteride is a prescription medicine used for the treatment of male pattern hair loss (androgenetic alopecia).
It is not known if Finasteride works for a receding hairline on either side of and above your forehead (temporal area).
Finasteride is not for use by women and children.
Who should not take Finasteride?
Do not take Finasteride if you:
are pregnant or may become pregnant. Finasteride may harm your unborn baby.

Finasteride tablets are coated and will prevent contact with the medicine during handling, as long as the tablets are not broken or crushed. Females who are pregnant or who may become pregnant should not come in contact with broken or crushed Finasteride tablets.
If a pregnant woman comes in contact with crushed or broken Finasteride tablets, wash the contact area right away with soap and water. If a woman who is pregnant comes into contact with the active ingredient in Finasteride, a healthcare provider should be consulted. If a woman who is pregnant with a male baby swallows or comes in contact with the medicine in Finasteride, the male baby may be born with sex organs that are not normal.

are allergic to any of the ingredients in Finasteride. See the end of this leaflet for a complete list of ingredients in Finasteride.

What should I tell my healthcare provider before taking Finasteride? Before taking Finasteride, tell your healthcare provider if you:

have any other medical conditions, including problems with your prostate or liver

Tell your healthcare provider about all the medicines you take, including prescription and nonprescription medicines, vitamins, and herbal supplements.

Know the medicines you take. Keep a list of them to show your healthcare provider and pharmacist when you get a new medicine.

How should I take Finasteride?

Take Finasteride exactly as your healthcare provider tells you to take it.
You may take Finasteride with or without food.

If you forget to take Finasteride, do not take an extra tablet. Just take the next tablet as usual.

Finasteride will not work faster or better if you take it more than once a day.

What are the possible side effects of Finasteride?

decrease in your blood Prostate Specific Antigen (PSA) levels. Finasteride can affect a blood test called PSA (Prostate-Specific Antigen) for the screening of prostate cancer. If you have a PSA test done you should tell your healthcare provider that you are taking Finasteride because Finasteride decreases PSA levels. Changes in PSA levels will need to be evaluated by your healthcare provider. Any increase in follow-up PSA levels from their lowest point may signal the presence of prostate cancer and should be evaluated, even if the test results are still within the normal range for men not taking Finasteride. You should also tell your healthcare provider if you have not been taking Finasteride as prescribed because this may affect the PSA test results. For more information, talk to your healthcare provider.

There may be an increased risk of a more serious form of prostate cancer in men taking finasteride at 5 times the dose of Finasteride.

The most common side effects of Finasteride include:

decrease in sex drive
trouble getting or keeping an erection

a decrease in the amount of semen

The following have been reported in general use with Finasteride:

breast tenderness and enlargement. Tell your healthcare provider about any changes in your breasts such as lumps, pain or nipple discharge.
depression;
decrease in sex drive that continued after stopping the medication;
allergic reactions including rash, itching, hives and swelling of the lips, tongue, throat, and face;
problems with ejaculation that continued after stopping medication;
testicular pain;
difficulty in achieving an erection that continued after stopping the medication;
male infertility and/or poor quality of semen.

in rare cases, male breast cancer.

Tell your healthcare provider if you have any side effect that bothers you or that does not go away.

These are not all the possible side effects of Finasteride. For more information, ask your healthcare provider or pharmacist. Call your doctor for medical advice about side effects. You may report side effects to FDA at 1-800-FDA1088.

How should I store Finasteride?

Store Finasteride at room temperature between 59˚F to 86˚F (15˚C to 30˚C).

Keep Finasteride in a closed container and keep Finasteride tablets dry (protect from moisture).

Keep Finasteride and all medicines out of the reach of children.

General information about the safe and effective use of Finasteride.

Medicines are sometimes prescribed for purposes other than those listed in this Patient Information. Do not use Finasteride for a condition for which it was not prescribed. Do not give Finasteride to other people, even if they have the same symptoms you have. It may harm them.