How to Choose a Beard to Match Your Facial Features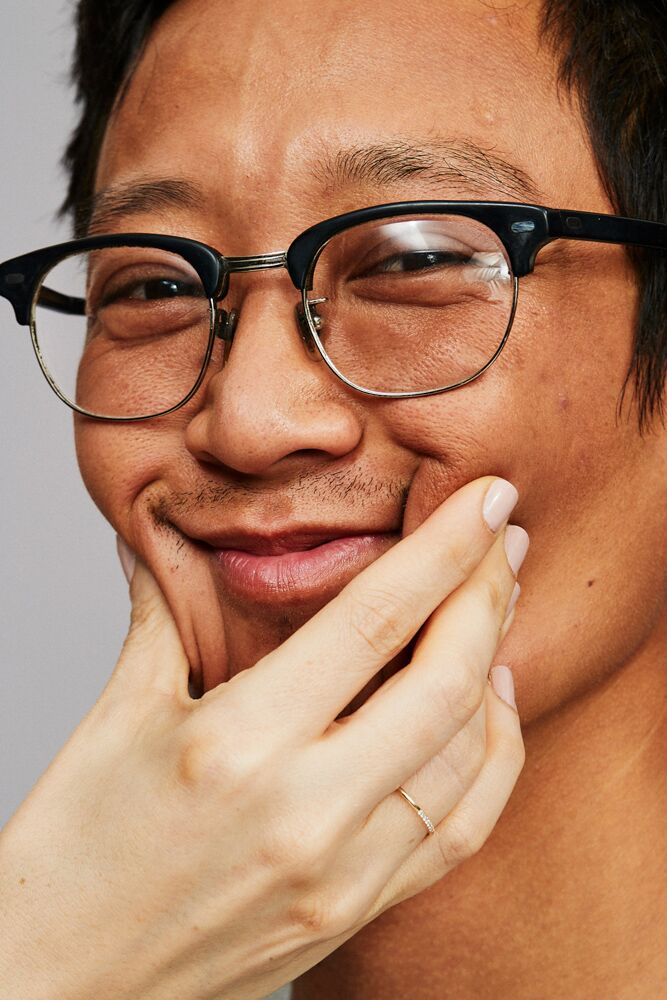 Growing a beard is a great way to add some extra character to your face. If your hair is starting to thin or your hairline is receding, it's also a great way to aesthetically compensate for the hair you're losing.
Plus, if you ever decide to deal with hair loss by shaving your head, facial hair can look really, really good as a replacement for a full head of hair.
While men who've never let their facial hair grow out might think growing a beard is easy, the reality is that developing good-looking facial hair requires a mix of maintenance, styling and a good understanding of your facial shape.
That's right -- just like your facial features can affect how you look in sunglasses, hats and other clothing, they can also affect how different beards look on you.
Choose the right beard for your facial shape and features and you'll enhance your looks, adding character and personality that wasn't there before. Choose the wrong type of beard and there's a serious risk your face will look overly round, square or triangular.
With this in mind, we've put together a simple guide to choosing the right beard for your facial features and shape. Ready to put away your razor and let your beard grow? Let's start with the key to styling your beard for your facial shape.
A Great Beard Complements Your Facial Shape
The golden rule of growing a great-looking beard is that your facial hair should complement, not match, your facial shape. This means that if you have a square jaw, a square beard usually isn't the style you'll want to go for.
An aesthetically-pleasing beard should give your jawline a smooth, oval-like shape that's slightly rounded without ever looking too much like a circle.
Think of a shape that's a mix of a diamond and an oval -- this is the kind of angle you want your beard to create. While there are some exceptions, this type of shape usually looks best on most faces.
We'll get into things like the best style of beard in a moment. For now, just remember that your beard should be trimmed into a shape that complements your jawline, not one that matches it perfectly.
The Best Beard Styles for Square, Round & Oval Faces
From a facial hair perspective, most male faces fit into one of five categories:
Square faces, which have a wide jawline and a square chin. People with square faces usually also have broad foreheads. Think of Arnold Schwarzenegger or Brad Pitt.
Round face, which have a more gradual, soft and rounded chin with fuller cheeks. Think of Justin Timberlake or Kanye West.
Heart/diamond face, which have a thinner, more pointed chin. Think of Ben Affleck or Ryan Gosling.
Pointed chin. This facial shape has a strong chin that overpowers the jawline. Think of Jay Leno.
Weak chin. While this technically isn't a facial shape, men with a weak chin can usually improve their appearance the most by growing facial hair.
The best beard for you depends on your facial shape. If you have a square face, you'll want to make the shape of your chin less aggressive by cutting your beard shorter on the sides, while letting it grow more around your chin.
If you have a round face, you'll want to create the oval/diamond shape by cutting your beard as short as possible on the cheeks, then gradually letting your facial hair grow longer as you move down your jawline towards your chin.
For a pointed chin, you'll want to keep your beard longer on the sides and trim it closer to your skin around the chin for a more gradual, oval-like shape. You can also grow a full, long beard to completely change the shape of your jawline.
If you have a heart/diamond face, you can cut your beard into almost any shape, as long as you don't get too close to an extreme square or rounded style.
Likewise, almost any style of beard can improve the appearance of a weak chin. Many men with this facial shape opt for a sculpted beard or a goatee to create the illusion of more definition.
A Great Beard Enhances Your Facial Features
Beyond adding character to your face, a great beard can help you cover up weak facial features and make them less obvious, all while enhancing the parts of your face that look the best.
Below, we've covered some of the most effective ways to use a beard to enhance and improve your facial features, from strengthening a weak chin to reducing the obviousness of a receding or thinning hairline.
Beards For Weak Jawlines
Looking for a little more definition around your chin? If you have a weak jawline and want to give it a bit of a boost, the best option is to grow a full beard. For extra definition, you can sculpt your beard to create the illusion of a stronger, more defined jawline.
Another good option for a weak chin is a goatee. The longer you grow your goatee (up to a limit -- at most, you'll want to keep it two inches long), the more you'll be able to add definition to your jawline and create a more powerful chin.
Beards For Double Chins
Growing a beard is an easy way to cover up a double chin, giving your face a more defined look and creating the illusion of less body fat.
The key to covering up a double chin with a beard is the length. Keep your beard short and the skin will still be visible underneath, resulting in a less defined jaw. Let it grow out a little and you can hide the upper portion of your neck, giving you a slimmer looking face.
Beards For Receding Hairlines
If your hairline is starting to recede, you have several choices. The first, and most effective, is to block further hair loss by using finasteride, minoxidil and other substances to keep your hair and protect against further DHT-related damage.
The second, which you can do at the same time as the first, is to grow out your beard to reduce the aesthetic impact of a receding hairline.
One of the best ways to rock a beard with a receding hairline is to keep your hair nice and short, with a tight beard that's trimmed close to your face. If you cut your hair longer on the top than on the sides, apply the same rule to your beard and keep the cheeks trimmed nice and short.
Another option is to keep a permanent stubble beard or five o'clock shadow. If you have a good beard trimmer, you can maintain this type of beard in just a couple of minutes a day to add some extra ruggedness to your face and reduce the visual impact of a receding hairline.
A Great Beard Requires Experience
It takes time to discover the right beard for your facial shape, meaning you probably won't get it completely right on your first try.
From a goatee to a full beard, the best way to discover the perfect type of beard for your jawline and facial features is to experiment. Put away your razor, pick up a beard trimmer and test out a variety of different beard styles.
Eventually, you'll find a beard that not only works well but actively enhances your facial features for a stronger, more masculine appearance.
Important Safety Information
IMPORTANT SAFETY INFORMATION
Finasteride is for use by MEN ONLY and should NOT be used by women or children.
Read this Patient Information before you start taking Finasteride and each time you get a refill. There may be new information. This information does not take the place of talking with your healthcare provider about your medical condition or treatment.
What is Finasteride?
Finasteride is a prescription medicine used for the treatment of male pattern hair loss (androgenetic alopecia).
It is not known if Finasteride works for a receding hairline on either side of and above your forehead (temporal area).
Finasteride is not for use by women and children.
Who should not take Finasteride?
Do not take Finasteride if you:
are pregnant or may become pregnant. Finasteride may harm your unborn baby.

Finasteride tablets are coated and will prevent contact with the medicine during handling, as long as the tablets are not broken or crushed. Females who are pregnant or who may become pregnant should not come in contact with broken or crushed Finasteride tablets.
If a pregnant woman comes in contact with crushed or broken Finasteride tablets, wash the contact area right away with soap and water. If a woman who is pregnant comes into contact with the active ingredient in Finasteride, a healthcare provider should be consulted. If a woman who is pregnant with a male baby swallows or comes in contact with the medicine in Finasteride, the male baby may be born with sex organs that are not normal.

are allergic to any of the ingredients in Finasteride. See the end of this leaflet for a complete list of ingredients in Finasteride.

What should I tell my healthcare provider before taking Finasteride? Before taking Finasteride, tell your healthcare provider if you:

have any other medical conditions, including problems with your prostate or liver

Tell your healthcare provider about all the medicines you take, including prescription and nonprescription medicines, vitamins, and herbal supplements.

Know the medicines you take. Keep a list of them to show your healthcare provider and pharmacist when you get a new medicine.

How should I take Finasteride?

Take Finasteride exactly as your healthcare provider tells you to take it.
You may take Finasteride with or without food.

If you forget to take Finasteride, do not take an extra tablet. Just take the next tablet as usual.

Finasteride will not work faster or better if you take it more than once a day.

What are the possible side effects of Finasteride?

decrease in your blood Prostate Specific Antigen (PSA) levels. Finasteride can affect a blood test called PSA (Prostate-Specific Antigen) for the screening of prostate cancer. If you have a PSA test done you should tell your healthcare provider that you are taking Finasteride because Finasteride decreases PSA levels. Changes in PSA levels will need to be evaluated by your healthcare provider. Any increase in follow-up PSA levels from their lowest point may signal the presence of prostate cancer and should be evaluated, even if the test results are still within the normal range for men not taking Finasteride. You should also tell your healthcare provider if you have not been taking Finasteride as prescribed because this may affect the PSA test results. For more information, talk to your healthcare provider.

There may be an increased risk of a more serious form of prostate cancer in men taking finasteride at 5 times the dose of Finasteride.

The most common side effects of Finasteride include:

decrease in sex drive
trouble getting or keeping an erection

a decrease in the amount of semen

The following have been reported in general use with Finasteride:

breast tenderness and enlargement. Tell your healthcare provider about any changes in your breasts such as lumps, pain or nipple discharge.
depression;
decrease in sex drive that continued after stopping the medication;
allergic reactions including rash, itching, hives and swelling of the lips, tongue, throat, and face;
problems with ejaculation that continued after stopping medication;
testicular pain;
difficulty in achieving an erection that continued after stopping the medication;
male infertility and/or poor quality of semen.

in rare cases, male breast cancer.

Tell your healthcare provider if you have any side effect that bothers you or that does not go away.

These are not all the possible side effects of Finasteride. For more information, ask your healthcare provider or pharmacist. Call your doctor for medical advice about side effects. You may report side effects to FDA at 1-800-FDA1088.

How should I store Finasteride?

Store Finasteride at room temperature between 59˚F to 86˚F (15˚C to 30˚C).

Keep Finasteride in a closed container and keep Finasteride tablets dry (protect from moisture).

Keep Finasteride and all medicines out of the reach of children.

General information about the safe and effective use of Finasteride.

Medicines are sometimes prescribed for purposes other than those listed in this Patient Information. Do not use Finasteride for a condition for which it was not prescribed. Do not give Finasteride to other people, even if they have the same symptoms you have. It may harm them.