Finasteride vs Dutasteride: Which is Better for Preventing Hair Loss?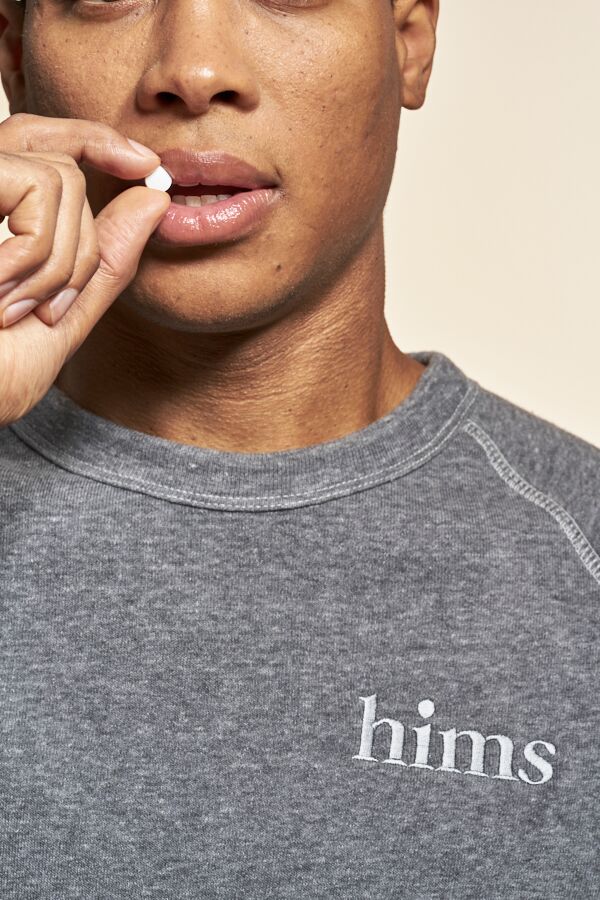 Everything you need to keep the hair on your head. If you're into that. Try hims for $5.


Finasteride and dutasteride are two of the most widely known and frequently used 5α-reductase inhibitors available today.
Both drugs are designed to inhibit the conversion of testosterone into dihydrotestosterone — the androgen that causes male pattern baldness. While finasteride and dutasteride share a few key benefits, they're both unique drugs with slightly different purposes and effects.
In this guide, we'll compare finasteride and dutasteride as hair loss treatments and look at the main differences between the two drugs.
Of the Two Options, Finasteride Is More Extensively Studied
Between finasteride and dutasteride, finasteride is the older drug. Finasteride was developed in the 1970s and in 1992 received FDA approval as a treatment for benign prostatic hyperplasia (BPH, or prostate enlargement).
Finasteride was eventually approved for use as a male pattern baldness treatment in 1997, at a lower dose than the higher-dosed BPH treatment version of finasteride (1mg vs. 5mg).
Dutasteride, on the other hand, was patented in 1996 and in 2001 received its FDA approval as a treatment for BPH. It's worth noting that dutasteride has not received FDA approval as a treatment for male pattern baldness.
Because finasteride is the older of the two 5α-reductase inhibitors, it's been studied in a greater level of detail than dutasteride. Finasteride's effectiveness, side effects and long-term effects are all better known than those of dutasteride, for which scientific data isn't always available.
This isn't to say that dutasteride hasn't been researched extensively; just that its side effects and long-term effects haven't been as extensively studied as those of finasteride.
Finasteride Is an FDA-Approved Hair Loss Treatment, While Dutasteride Isn't
Although dutasteride is approved as a treatment for male pattern baldness in some countries, it still hasn't received FDA approval as a hair loss drug in the United States.
Dutasteride is approved by the FDA, but only as a treatment for BPH. This means that it's gone through the FDA's rigorous testing and research process, but only as a drug marketed with the intended purpose of combating prostate enlargement.
This doesn't mean that dutasteride isn't effective at preventing hair loss (we'll cover this subject further down). Dutasteride does prevent hair loss, but it can only be prescribed for this purpose as an off-label treatment option.
Finasteride Blocks 70 Percent of DHT, Whereas Dutasteride Blocks 90+ Percent
Studies show that dutasteride is slightly more effective at blocking testosterone from converting into DHT — the hormone that causes male pattern baldness.
In a study of 399 patients, researchers found that dutasteride blocked 98.4 percent +/- 1.2 percent of DHT at a 5mg daily dose, compared to 70.8 +/- 18.3 percent with the same dose of finasteride.
This study was conducted on people suffering from prostate enlargement, meaning it used far higher doses of dutasteride and finasteride than the doses used to treat hair loss. Still, it shows that dutasteride is, milligram for milligram, more effective at lowering DHT than finasteride.
It also shows that dutasteride is more consistent at blocking DHT than finasteride. The level of variability for the dutasteride group was +/- 1.2 percent, showing an almost total elimination of DHT, with far less variation between patients than the +/- 18.3 percent of the finasteride group.
In simple terms, this means that dutasteride is likely more effective at blocking DHT and more consistent in its DHT blocking effects than finasteride.
Dutasteride Might Be More Effective at Increasing Hair Growth
Though conflicted, certain study data also shows that dutasteride is more effective at promoting hair growth in people with male pattern baldness than finasteride.
A 2006 study of 416 men aged between 21 and 45 showed that dutasteride produced better hair count results than finasteride over a period of 12 to 24 weeks. The researchers used an expert panel and before and after photographs to compare and verify the effects of the two drugs.
This could mean that dutasteride's stronger effect on blocking DHT makes it more effective as a treatment for preventing male pattern baldness.
One reason for this could be dutasteride's long half-life. Dutasteride has a half-life of almost four weeks, meaning it remains active in the body long after it's consumed. Finasteride's half-life, on the other hand, is only six to eight hours.
It's important to remember that this doesn't mean finasteride isn't effective at stopping hair loss in men — only that dutasteride is potentially more effective.
There are countless studies showing that finasteride works very well at preventing hair loss in both the short term and the long term, and generally, 85 percent of people who use finasteride daily exhibit hair regrowth in the first three to four months.
It's also important to remember that one study doesn't mean dutasteride is undoubtedly a better option. Right now, there's limited data about dutasteride's long-term performance as a hair loss treatment, meaning there's no perfect way of knowing how effective it is over the long term.
Finasteride and Dutasteride Both Have Rare, Tolerable Side Effects
Finasteride and dutasteride both have side effects, but they're rare and only affect a very small percentage of users.
Finasteride users may experience breast tenderness and rashes (less than one percent, overall). Sexual dysfunction is slightly more common — but only marginally.
Specifically, on average, 1.8 percent of finasteride users experience a decrease in libido, 1.3 percent experience erectile dysfunction and 1.2 percent experience a lower level of ejactulate.
Far as long-term side effects go, 1.4 percent of finasteride users who experience any side effects (roughly 0.02 percent total), experience side effects that last after they stop using the medication.
Most studies of long-term finasteride use corroborate those figures. A 1992 study of finasteride resulted in no reports of negative sexual side effects in the 895 men that used the treatment for 12 months, even at a 5mg daily dose.
Over the course of 24 months, the only negative side effects reported were reduced libido and ejaculation issues, which affected approximately one percent of patients.
Other studies show similar results. A 48-week trial of finasteride that involved 212 men resulted in two people experiencing sexual side effects from finasteride, with one person in the placebo group also reporting sexual side effects.
Participants in this study also reported that the negative effects stopped after they stopped using finasteride.
As a whole, the data shows that finasteride is safe and that side effects are rare, reversible and generally not permanent. It also shows that many of the perceived side effects of finasteride could be the result of a placebo effect.
One study shows that when people are informed of finasteride's potential side effects, they're far more likely to report them, even when they're given a placebo instead of the real drug.
One important thing to be aware of is that many of the studies regarding finasteride side effects use a higher dose of treatment than the regular dose for hair loss. This may mean that side effects at a hair loss dose are even rarer than they seem from the medical literature.
Likewise, study data shows that dutasteride is safe and well tolerated, even at the higher doses used to treat BPH. Side effects are rare and generally reversible, with only a small percentage of people affected negatively by finasteride or dutasteride.
It's important to remember that while side effects from finasteride and dutasteride are rare, they can still happen. If you experience side effects from either treatment, it's always important to talk to your doctor and let them know about your experience.
Which Is Better for Preventing Hair Loss?
Finasteride and dutasteride are two different drugs with similar effects. Both prevent hair loss by preventing the conversion of testosterone to DHT. Both are proven to work. Both have rare side effects that, for most users, are tolerable.
Both drugs also have specific advantages. Finasteride is the older of the two drugs and has far more scientific data about its effectiveness, safety and long-term effects. Because dutasteride is newer, there's far less data about its long-term effectiveness.
Because dutasteride isn't FDA-approved for hair loss, we still think finasteride is the better male pattern baldness treatment, if only because of the wealth of data about its long-term safety and effectiveness.
Still, the future looks bright for dutasteride, and once more data is available it could eventually become the leading treatment option for male pattern baldness.
This article was reviewed by Brendan Levy, MD.