Finasteride vs Dutasteride: Which is Better for Preventing Hair Loss?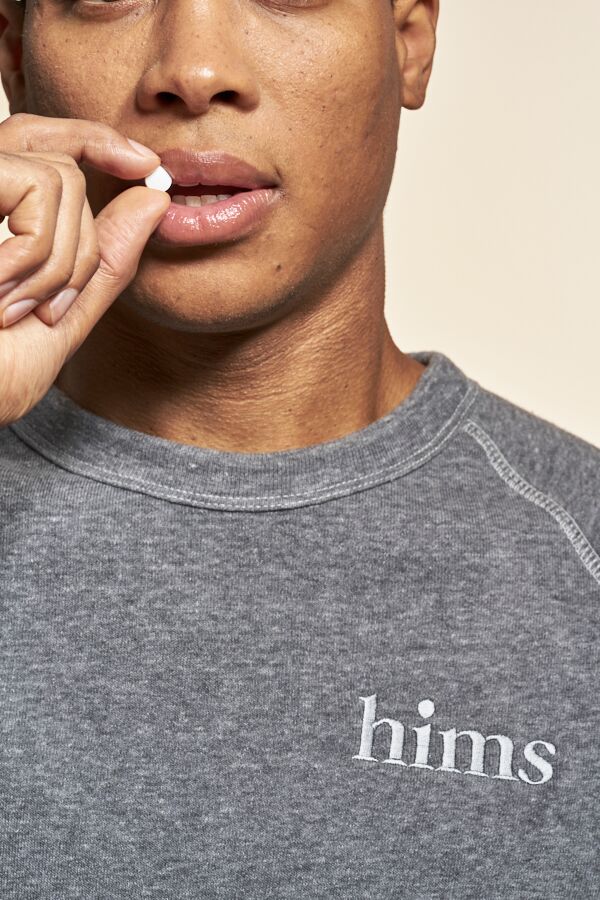 Everything you need to keep the hair on your head. If you're into that. Try hims for $5.


Finasteride and dutasteride are two of the most widely known and frequently used 5α-reductase inhibitors available today.
Both drugs are designed to inhibit the conversion of testosterone into dihydrotestosterone -- the androgen that causes male pattern baldness. While finasteride and dutasteride share a few key benefits, they're both unique drugs with slightly different purposes and effects.
In this guide, we'll compare finasteride and dutasteride as hair loss treatments and look at the main differences between the two drugs.
Of the two options, finasteride is more extensively studied
Between finasteride and dutasteride, finasteride is the older drug. Finasteride was developed in the 1970s and received FDA approval as a treatment for benign prostatic hyperplasia (BPH, or prostate enlargement) in 1992.
Finasteride was eventually approved for use as a male pattern baldness treatment in 1997, at a lower dose (1mg vs 5mg) than the higher-dosed BPH treatment version of finasteride.
Dutasteride, on the other hand, was only patented in 1996 and became approved by the FDA as a treatment for BPH in 2001.
Because finasteride is the older of the two 5α-reductase inhibitors, it's been studied in a greater level of detail than dutasteride. Finasteride's effectiveness, side effects and long-term effects are all better known than those of dutasteride, for which scientific data isn't always available.
This isn't to say that dutasteride hasn't been researched extensively, but just that its side effects and long-term effects haven't been as extensively studied as those of finasteride.
Finasteride is an FDA approved hair loss treatment, while dutasteride isn't
Although dutasteride is approved as a treatment for male pattern baldness in some countries, it still hasn't received FDA approval as a hair loss drug in the United States.
Dutasteride is approved by the FDA, but only as a treatment for BPH. This means that it's gone through the FDA's rigorous testing and research process, but only as a drug marketed with the intended purpose of combating prostate enlargement.
This doesn't mean that dutasteride isn't effective at preventing hair loss (we'll cover this subject further down the page). Dutasteride does prevent hair loss, but it can only be prescribed for this purpose as an off-label treatment option.
Finasteride blocks 70% of DHT, whereas dutasteride blocks 90+%
Studies show that dutasteride is slightly more effective at blocking testosterone from converting into DHT -- the hormone that causes male pattern baldness.
In a study of 399 patients, researchers found that dutasteride blocked 98.4% +/- 1.2% of DHT at a 5mg daily dose, compared to 70.8 +/- 18.3% with the same dose of finasteride.
This study was conducted on people suffering from prostate enlargement, meaning it used far higher doses of dutasteride and finasteride than the doses used to treat hair loss. Still, it shows that dutasteride is, milligram for milligram, more effective at lowering DHT than finasteride.
It also shows that dutasteride is more consistent at blocking DHT than finasteride. The level of variability for the dutasteride group was +/- 1.2%, showing an almost total elimination of DHT, with far less variation between patients than the +/- 18.3% of the finasteride group.
In simple terms, this means that dutasteride is likely more effective at blocking DHT and more consistent in its DHT blocking effects than finasteride.
Dutasteride might be more effective at increasing hair growth
Study data also shows that dutasteride is more effective at promoting hair growth in people with male pattern baldness than finasteride.
A 2006 study of 416 men aged between 21 and 45 shows that dutasteride produced better hair count results than finasteride over a period of 12 to 24 weeks. The researchers used an expert panel and before and after photographs to compare and verify the effects of the two drugs.
This could mean that dutasteride's stronger effect on blocking DHT makes it more effective as a treatment for preventing male pattern baldness.
One reason for this could be dutasteride's long half life. Dutasteride has a half life of almost four weeks, meaning it remains active in the body long after it's consumed. Finasteride's half life, on the other hand, is only six to eight hours.
It's important to remember that this doesn't mean finasteride isn't effective at stopping hair loss in men -- only that dutasteride is potentially more effective. There are countless studies showing that finasteride works very well at preventing hair loss in both the short term and the long term.
It's also important to remember that one study doesn't mean dutasteride is undoubtedly a better option. Right now, there's limited data about dutasteride's long-term performance as a hair loss treatment, meaning there's no perfect way of knowing how effective it is over the long term.
Finasteride and dutasteride both have rare, tolerable side effects
Finasteride and dutasteride both have side effects, but they're rare and only affect a very small percentage of users.
One of the most common reported side effects of finasteride is a decrease in sexual drive and sexual performance. While studies show that this side effects can and does happen, it's a very rare occurrence.
Most studies of long-term finasteride use show few, if any, users experiencing any sexual side effects from the treatment. A 1992 study of finasteride resulted in no reports of negative sexual side effects in the 895 men that used the treatment for 12 months, even at a 5mg daily dose.
Over the course of 24 months, the only negative side effects reported were reduced libido and ejaculation issues, which affected approximately one percent of patients.
Other studies show similar results. A 48-week trial of finasteride that involved 212 men resulted in two people experiencing sexual side effects from finasteride, with one person in the placebo group also reporting sexual side effects.
Participants in this study also reported that the negative effects stopped after they stopped using finasteride.
As a whole, the data shows that finasteride is safe and that side effects are rare, reversible and non-permanent. It also shows that many of the perceived side effects of finasteride could be the result of a placebo effect.
One study shows that when people are informed of finasteride's potential side effects, they're far more likely to report them, even when they're given a placebo instead of the real drug.
One important thing to be aware of is that many of the studies into finasteride side effects use a higher dose of the treatment than the regular dose for hair loss. This may mean that side effects at a hair loss dose are even rarer than they seem from the medical literature.
Likewise, study data shows that dutasteride is safe and well tolerated, even at the higher doses used to treat BPH. Side effects are rare and reversible, with only a small percentage of people affected negatively by finasteride or dutasteride.
It's important to remember that while side effects from finasteride and dutasteride are rare, they can still happen. If you experience side effects from either treatment, it's always important to talk to your doctor and let them know about your experience.
Which is better for preventing hair loss?
Finasteride and dutasteride are two different drugs with similar effects. Both prevent hair loss by preventing the conversion of testosterone to DHT. Both are proven to work. Both have rare side effects that, for most users, are tolerable.
Both drugs also have specific advantages. Finasteride is the older of the two drugs and has far more scientific data about its effectiveness, safety and long-term effects. Because dutasteride is newer, there's far less data about its long-term effectiveness.
Because dutasteride isn't FDA approved for hair loss, we still think finasteride is the better male pattern baldness treatment, if only because of the wealth of data about its long-term safety and effectiveness.
Still, the future looks bright for dutasteride, and once more data is available it could eventually become the leading treatment option for male pattern baldness.
This article was reviewed by Brendan Levy, MD.
Important Safety Information
IMPORTANT SAFETY INFORMATION
Finasteride is for use by MEN ONLY and should NOT be used by women or children.
Read this Patient Information before you start taking Finasteride and each time you get a refill. There may be new information. This information does not take the place of talking with your healthcare provider about your medical condition or treatment.
What is Finasteride?
Finasteride is a prescription medicine used for the treatment of male pattern hair loss (androgenetic alopecia).
It is not known if Finasteride works for a receding hairline on either side of and above your forehead (temporal area).
Finasteride is not for use by women and children.
Who should not take Finasteride?
Do not take Finasteride if you:
are pregnant or may become pregnant. Finasteride may harm your unborn baby.

Finasteride tablets are coated and will prevent contact with the medicine during handling, as long as the tablets are not broken or crushed. Females who are pregnant or who may become pregnant should not come in contact with broken or crushed Finasteride tablets.
If a pregnant woman comes in contact with crushed or broken Finasteride tablets, wash the contact area right away with soap and water. If a woman who is pregnant comes into contact with the active ingredient in Finasteride, a healthcare provider should be consulted. If a woman who is pregnant with a male baby swallows or comes in contact with the medicine in Finasteride, the male baby may be born with sex organs that are not normal.

are allergic to any of the ingredients in Finasteride. See the end of this leaflet for a complete list of ingredients in Finasteride.

What should I tell my healthcare provider before taking Finasteride? Before taking Finasteride, tell your healthcare provider if you:

have any other medical conditions, including problems with your prostate or liver

Tell your healthcare provider about all the medicines you take, including prescription and nonprescription medicines, vitamins, and herbal supplements.

Know the medicines you take. Keep a list of them to show your healthcare provider and pharmacist when you get a new medicine.

How should I take Finasteride?

Take Finasteride exactly as your healthcare provider tells you to take it.
You may take Finasteride with or without food.

If you forget to take Finasteride, do not take an extra tablet. Just take the next tablet as usual.

Finasteride will not work faster or better if you take it more than once a day.

What are the possible side effects of Finasteride?

decrease in your blood Prostate Specific Antigen (PSA) levels. Finasteride can affect a blood test called PSA (Prostate-Specific Antigen) for the screening of prostate cancer. If you have a PSA test done you should tell your healthcare provider that you are taking Finasteride because Finasteride decreases PSA levels. Changes in PSA levels will need to be evaluated by your healthcare provider. Any increase in follow-up PSA levels from their lowest point may signal the presence of prostate cancer and should be evaluated, even if the test results are still within the normal range for men not taking Finasteride. You should also tell your healthcare provider if you have not been taking Finasteride as prescribed because this may affect the PSA test results. For more information, talk to your healthcare provider.

There may be an increased risk of a more serious form of prostate cancer in men taking finasteride at 5 times the dose of Finasteride.

The most common side effects of Finasteride include:

decrease in sex drive
trouble getting or keeping an erection

a decrease in the amount of semen

The following have been reported in general use with Finasteride:

breast tenderness and enlargement. Tell your healthcare provider about any changes in your breasts such as lumps, pain or nipple discharge.
depression;
decrease in sex drive that continued after stopping the medication;
allergic reactions including rash, itching, hives and swelling of the lips, tongue, throat, and face;
problems with ejaculation that continued after stopping medication;
testicular pain;
difficulty in achieving an erection that continued after stopping the medication;
male infertility and/or poor quality of semen.

in rare cases, male breast cancer.

Tell your healthcare provider if you have any side effect that bothers you or that does not go away.

These are not all the possible side effects of Finasteride. For more information, ask your healthcare provider or pharmacist. Call your doctor for medical advice about side effects. You may report side effects to FDA at 1-800-FDA1088.

How should I store Finasteride?

Store Finasteride at room temperature between 59˚F to 86˚F (15˚C to 30˚C).

Keep Finasteride in a closed container and keep Finasteride tablets dry (protect from moisture).

Keep Finasteride and all medicines out of the reach of children.

General information about the safe and effective use of Finasteride.

Medicines are sometimes prescribed for purposes other than those listed in this Patient Information. Do not use Finasteride for a condition for which it was not prescribed. Do not give Finasteride to other people, even if they have the same symptoms you have. It may harm them.