Rules of Engagement for Cuffing Season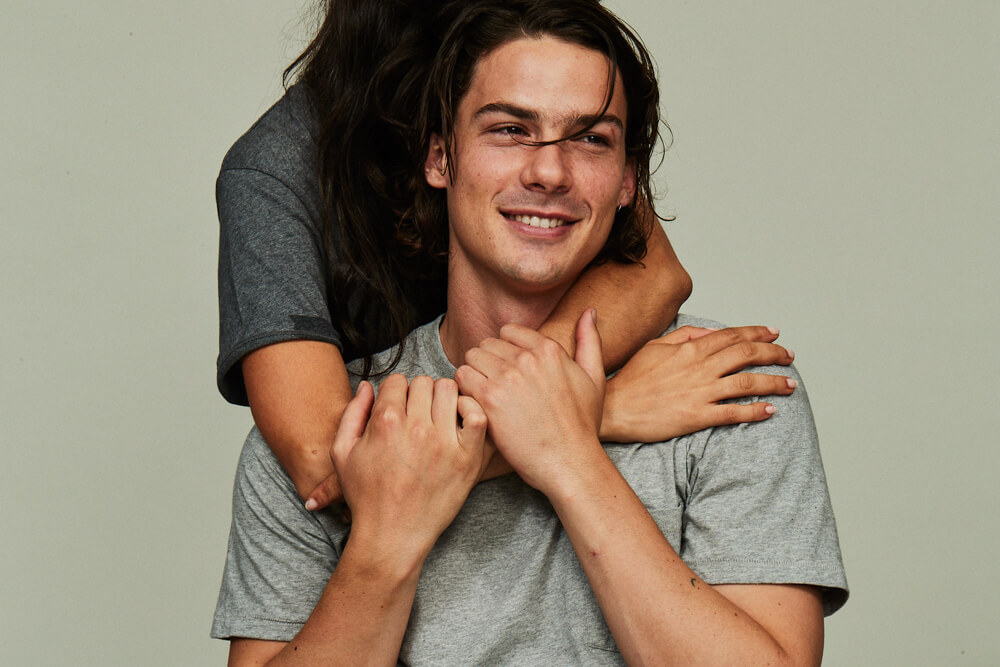 Every year, when fall comes around, the internet lights up with jokes about cuffing season. According to the meme, people spend the colder months with a recently "cuffed" significant other — favoring Netflix-and-chilling over going out on the town to meet new people.
And though this might seem like nothing but a social media joke, there's evidence that it's a legitimate phenomenon. A survey conducted by the dating app Hinge found that men were "15% more likely to be looking for a relationship" during the winter. As the days get much shorter and temperatures take a dive, you too might be tempted to take part in this dating ritual. Check out these rules of engagement for cuffing season and proceed with caution.
Stay Safe
You might start having sex exclusively with one partner during cuffing season. But monogamy doesn't guarantee safety. Talk to your partner about getting tested together for Sexually Transmitted Infections (STIs) and stock up on condoms. Here are a few condom brands that are great for those who prefer a more natural feeling:
In addition, you should talk to your partner about your herpes status. If you or your partner do get cold sores, there's no need to panic. With hims' cold sore kit, you can prevent flare-ups by taking a daily antiviral medication called valacyclovir (Valtrex).
Get Help If You Need It
Cuffing season might come with a lot of expectations for sex. When you're experiencing erectile dysfunction, however, these expectations can be frustrating. But instead of getting upset with yourself, you can be proactive and find a readily available solution. You should be open with your partner about what you're experiencing and be transparent that you're seeking out solutions. In addition to therapy, you can look into scientifically proven treatment like Sildenafil that helps blood flow to the penis better. The best part of these treatments? Not only do they work, you can get them delivered to your door so you don't have to go to a pharmacy — ideal for cuffing season.
Stock Up On In-Door Activities
Even if you're deeply in love with your new partner, there's always a chance that one of you will start feeling bored after a few weeks. Since its cold out, you can't always go out for walks in the park or go bar hopping. You will have to find a way to feel entertained while staying mostly indoors. Luckily, there are a lot of options. Feeling sick of Netflix? Check out FilmStruck's diverse collection of movies. Maybe you guys can start getting into boardgames or start playing cards. This could also be a great opportunity to pick up a hobby together like cooking. With online food delivery services like Blue Apron and HelloFresh, you can get ingredients sent to your home. This is the perfect time to experiment with new, outlandish recipes. By the time cuffing season is over, both of you could very will be incredible chefs.
Don't Get Cabin Fever
Yes, it may seem awesome to be spending all this time with your new partner, but both of you should try to spice things up every once in a while and spend a night out. Though it might be freezing, there's no reason why you can't occasionally go see a movie or meet up with friends. Spending some time apart away from your partner could also be great for your relationship. Just because its cuffing season doesn't mean you can't indulge in the old activities you enjoyed as a single person.
Go With Flow
Regardless if you find a partner or not, you should never lose sight that a romantic relationship doesn't guarantee happiness. Our culture put a lot of pressure on obtaining cinematic, unrealistic ideals of love. But there's nothing wrong with not taking part in cuffing season whatsoever and just doing you.
If you do find yourself with a new partner this cuffing season, however, be prepared that things might change once it gets warmer outside. According to one psychologist, warmer weather makes people more inclined to break up. Even a Facebook analysis of relationship statuses found that people "uncuff" during warmer months. So, be prepared that your winter romance might be fleeting. But just as its perfectly okay to skip out on cuffing season, there's no reason why you have to succumb to some gloomy statistic in the spring. If the relationship is great and the passion is still there, mazel tov!

Are you looking for more tips? Check out hims' blog.
Important Safety Information
IMPORTANT SAFETY INFORMATION
Do not take Sildenafil (sildenafil citrate) if you:
take any medicines called nitrates, often prescribed for chest pain, or guanylate cyclase stimulators like Adempas (riociguat) for pulmonary hypertension. Your blood pressure could drop to an unsafe level

are allergic to sildenafil, as contained in Sildenafil and REVATIO, or any of the ingredients in Sildenafil

Discuss your health with your doctor to ensure that you are healthy enough for sex. If you experience chest pain, dizziness, or
nausea during sex, seek immediate medical help

Sildenafil can cause serious side effects. Rarely reported side effects include:

an erection that will not go away (priapism). If you have an erection that lasts more than 4 hours, get medical help right away.
If it is not treated right away, priapism can permanently damage your penis
sudden vision loss in one or both eyes. Sudden vision loss in one or both eyes can be a sign of a serious eye problem called
non-arteritic anterior ischemic optic neuropathy (NAION). Stop taking Sildenafil and call your healthcare provider right away if you
have any sudden vision loss

sudden hearing decrease or hearing loss. Some people may also have ringing in their ears (tinnitus) or dizziness. If you have
these symptoms, stop taking Sildenafil and contact a doctor right away

Before you take Sildenafil, tell your healthcare provider if you:

have or have had heart problems such as a heart attack,
irregular heartbeat, angina, chest pain, narrowing of the aortic valve, or heart failure
have had heart surgery within the last 6 months
have pulmonary hypertension
have had a stroke
have low blood pressure, or high blood pressure that
is not controlled
have a deformed penis shape
have had an erection that lasted for more than 4 hours
have problems with your blood cells such as sickle cell
anemia, multiple myeloma, or leukemia
have retinitis pigmentosa, a rare genetic (runs in families)
eye disease
have ever had severe vision loss, including an eye problem
called NAION
have bleeding problems
have or have had stomach ulcers
have liver problems

have kidney problems or are having kidney dialysis have any other medical conditions

Tell your healthcare provider about all the medicines you take, including prescription and over-the-counter medicines, vitamins,
and herbal supplements.

Sildenafil may affect the way other medicines work, and other medicines may affect the way Sildenafil works, causing side effects.
Especially tell your healthcare provider if you take any of the following:

medicines called nitrates
medicines called guanylate cyclase stimulators such as Adempas (riociguat)
medicines called alpha-blockers such as Hytrin (terazosin
HCl), Flomax (tamsulosin HCl), Cardura (doxazosin
mesylate), Minipress (prazosin HCl), Uroxatral (alfuzosin HCl),
 Jalyn (dutasteride and tamsulosin HCl), or Rapaflo (silodosin).
Alpha-blockers are sometimes prescribed for prostate
problems or high blood pressure. In some patients, the use
of Sildenafil with alpha-blockers can lead to a drop in blood pressure or to fainting
medicines called HIV protease inhibitors, such as ritonavir (Norvir), indinavir sulfate (Crixivan), saquinavir (Fortovase or Invirase), or atazanavir sulfate (Reyataz)
some types of oral antifungal medicines, such as
 ketoconazole (Nizoral) and itraconazole (Sporanox)
some types of antibiotics, such as clarithromycin (Biaxin),
telithromycin (Ketek), or erythromycin
other medicines that treat high blood pressure
other medicines or treatments for ED

Sildenafil contains sildenafil, which is the same medicine found
in another drug called REVATIO. REVATIO is used to treat a
rare disease called pulmonary arterial hypertension (PAH).
 Sildenafil should not be used with REVATIO or with other PAH
treatments containing sildenafil or any other PDE5 inhibitors
(such as Adcirca tadalafil)

Sildenafil does not protect against sexually transmitted diseases, including HIV.

The most common side effects of Sildenafil: headache; flushing; upset stomach; abnormal vision, such as changes in color vision
(such as having a blue color tinge) and blurred vision; stuffy or runny nose; back pain; muscle pain; nausea; dizziness; rash.

Sildenafil (sildenafil citrate) is prescription medicine used to treat erectile dysfunction (ED).

Sildenafil is not for women or children.