Myth Busting: The Baldness Gene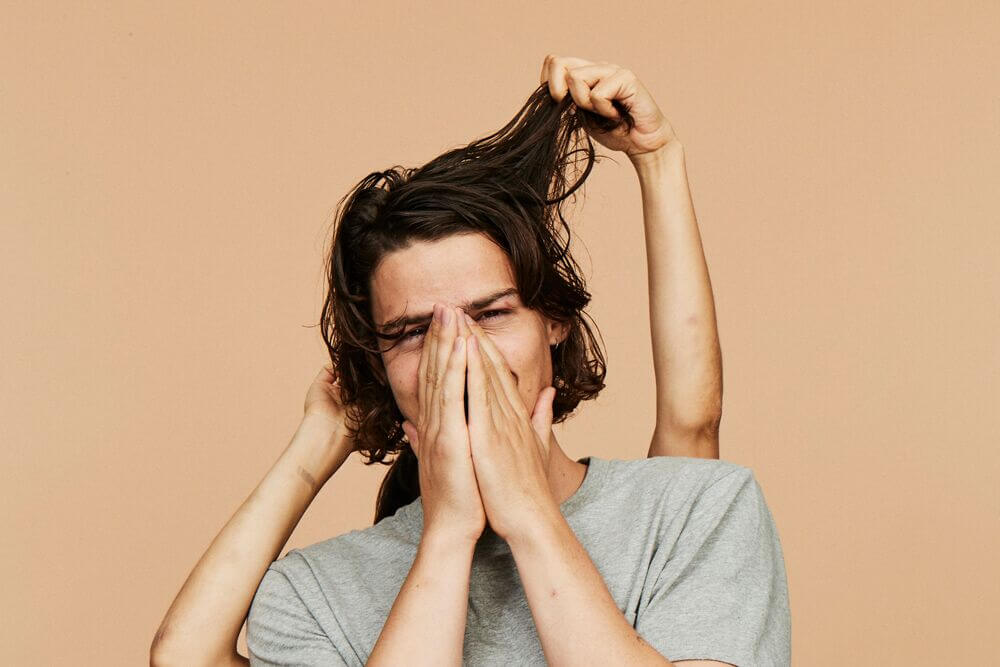 Everything you need to keep the hair on your head. If you're into that. Try hims for $5.


Instead of settling for socks, coupons, or tacky sweaters, families all across the nation have been giving each other a more exciting holiday gift — DNA testing kits. In addition to assessing your ancestral history, these kits also test for the presence of different genes that range from the trivial — whether you prefer salty foods — to the more serious, like your likelihood to get Parkinson's Disease.
23andMe, one of the more popular DNA testing kits, also looks for the balding gene and the chance of hair loss in men. There's plenty of myths surrounding hereditary hair loss that cause men to panic and freak out for no good reason. For this installment of myth busting, we will explain hereditary hair loss and unpack how accurate these widely popular DNA testing kits actually are.
Does hair loss come from your mother's side?
You've probably heard this myth: if your mother's father is bald than you're most definitely going to lose your hair. Sometimes, the myth gets more specific — if your grandpa started going bald when he was 25 than you should expect to start losing hair by then; so buckle up and enjoy college. Before you start frantically asking your mom for grandpa's old photos, there are some things you should know.
First, there's some truth to this myth. Male pattern baldness, medically referred to as androgenic alopecia, does mostly come from genetics. A study demonstrated that 79 percent of male pattern baldness is heritable and another study found that the androgen receptors (AR) gene, (which cause baldness) can be found on your X chromosome. In a research paper, 23andMe and scientists from the University of Bonn concluded that the X chromosome also carries other hair loss biological factors like "melatonin signalling, fat cell differentiation, and the growth phases of the hair."
Biological males have both an X and Y chromosome, while biological females have two XX chromosomes. Since men get their X chromosome from their mothers, looking into maternal genetics makes sense. When a trait gets passed to the X chromosome in men, the likelihood of it expressing itself is larger because it won't get balanced out by another X chromosome. Women, on other hand, need genetic traits to pop up in both X chromosomes to express itself. Mothers carry one X chromosome from their fathers, making their grandfather's genetics a likely indicator for what traits they will pass on to men. That being said, it would be reductive to claim that hair loss just comes from your mom's genetics. Here is why:
This is still a relatively young field of research and there are new discoveries happening everyday.

Some studies have found

balding genes

on the Y chromosome, complicating this myth by making fathers' genetic trains also an important factor to hair loss.
What does it mean if my DNA test says I am likely to go bald?
Despite being popular, DNA testing kits are new terrain for science. With 23andMe, theoretically all you have to do is spit in a tube, send it to a lab, and then wait a few weeks to see your risk for going bald. Though this process may seem super convenient, it's not one hundred percent accurate. 23andMe — and other testing kits — are also prone to errors.
For some non-caucasian ethnicities, the data is also limited and could lead to flawed results. The company warns customers that just because variants are present in their DNA, it doesn't mean those variants will always express themselves. This is a prediction, not a diagnosis. There's a difference between being a carrier of a gene and having the symptom or disease. You could likely pass down the balding gene to your children without going bald yourself.
Does baldness only come from genetics?
If your DNA test says you're likely to go bald, remember that it's one of many factors that lead to hair loss. Even though the majority of cases of male pattern baldness do stem from genetics, there are other factors that can't easily be determined from DNA testing kits. Remember, it's important to contact a physician if you start experiencing hair loss because it could foreshadow serious health issues. What are some non-hereditary factors that could lead to hair loss?
Medications

: Cancer chemotherapy treatments are detrimental to follicles.

Autoimmune diseases

: Lupus, Alopecia Areata, and Hashimoto's Disease all can lead to hair loss.

Stress

: According to the

Mayo Clinic

, stress-induced psychological conditions like

Telogen effluvium and Trichotillomania (hair pulling syndrome) also can result in losing one's hair.
These factors can't be treated by the medications that hims offers and in the specific cases of telogen effluvium and trichotillomania, may require psychological or psychiatric assistance.
How do I prevent hereditary hair loss?
Unfortunately, you can't simply delete the balding gene. If you start experiencing signs of hair loss, however, there are steps you can do to prevent it from worsening. For all of its folklore, most hair loss comes from chemical reactions in the body. Hereditary hair loss is caused by dihydrotestosterone (DHT), an androgen that's produced with testosterone. All biological men make DHT. When you are genetically bound to go bald, DHT shrinks and subsequently destroys your follicles — resulting in hair loss. Luckily, there are treatments that can stop this by blocking DHT. The medication Finasteride inhibits DHT production, preventing you from losing more follicles.
Finding out your genetically predisposed to losing hair can be scary and nerve wracking. But it's important to put DNA testing kits and old family photos of your grandpa in perspective. At hims, we want to provide the information you need to take the important steps to move forward. Check out our helpful guide about the effects of finasteride and how it works. If you're interested in learning more about how our products can alleviate your hair loss stress, take a look at our hair loss products.
Important Safety Information
IMPORTANT SAFETY INFORMATION
Finasteride is for use by MEN ONLY and should NOT be used by women or children.
Read this Patient Information before you start taking Finasteride and each time you get a refill. There may be new information. This information does not take the place of talking with your healthcare provider about your medical condition or treatment.
What is Finasteride?
Finasteride is a prescription medicine used for the treatment of male pattern hair loss (androgenetic alopecia).
It is not known if Finasteride works for a receding hairline on either side of and above your forehead (temporal area).
Finasteride is not for use by women and children.
Who should not take Finasteride?
Do not take Finasteride if you:
are pregnant or may become pregnant. Finasteride may harm your unborn baby.

Finasteride tablets are coated and will prevent contact with the medicine during handling, as long as the tablets are not broken or crushed. Females who are pregnant or who may become pregnant should not come in contact with broken or crushed Finasteride tablets.
If a pregnant woman comes in contact with crushed or broken Finasteride tablets, wash the contact area right away with soap and water. If a woman who is pregnant comes into contact with the active ingredient in Finasteride, a healthcare provider should be consulted. If a woman who is pregnant with a male baby swallows or comes in contact with the medicine in Finasteride, the male baby may be born with sex organs that are not normal.

are allergic to any of the ingredients in Finasteride. See the end of this leaflet for a complete list of ingredients in Finasteride.

What should I tell my healthcare provider before taking Finasteride? Before taking Finasteride, tell your healthcare provider if you:

have any other medical conditions, including problems with your prostate or liver

Tell your healthcare provider about all the medicines you take, including prescription and nonprescription medicines, vitamins, and herbal supplements.

Know the medicines you take. Keep a list of them to show your healthcare provider and pharmacist when you get a new medicine.

How should I take Finasteride?

Take Finasteride exactly as your healthcare provider tells you to take it.
You may take Finasteride with or without food.

If you forget to take Finasteride, do not take an extra tablet. Just take the next tablet as usual.

Finasteride will not work faster or better if you take it more than once a day.

What are the possible side effects of Finasteride?

decrease in your blood Prostate Specific Antigen (PSA) levels. Finasteride can affect a blood test called PSA (Prostate-Specific Antigen) for the screening of prostate cancer. If you have a PSA test done you should tell your healthcare provider that you are taking Finasteride because Finasteride decreases PSA levels. Changes in PSA levels will need to be evaluated by your healthcare provider. Any increase in follow-up PSA levels from their lowest point may signal the presence of prostate cancer and should be evaluated, even if the test results are still within the normal range for men not taking Finasteride. You should also tell your healthcare provider if you have not been taking Finasteride as prescribed because this may affect the PSA test results. For more information, talk to your healthcare provider.

There may be an increased risk of a more serious form of prostate cancer in men taking finasteride at 5 times the dose of Finasteride.

The most common side effects of Finasteride include:

decrease in sex drive
trouble getting or keeping an erection

a decrease in the amount of semen

The following have been reported in general use with Finasteride:

breast tenderness and enlargement. Tell your healthcare provider about any changes in your breasts such as lumps, pain or nipple discharge.
depression;
decrease in sex drive that continued after stopping the medication;
allergic reactions including rash, itching, hives and swelling of the lips, tongue, throat, and face;
problems with ejaculation that continued after stopping medication;
testicular pain;
difficulty in achieving an erection that continued after stopping the medication;
male infertility and/or poor quality of semen.

in rare cases, male breast cancer.

Tell your healthcare provider if you have any side effect that bothers you or that does not go away.

These are not all the possible side effects of Finasteride. For more information, ask your healthcare provider or pharmacist. Call your doctor for medical advice about side effects. You may report side effects to FDA at 1-800-FDA1088.

How should I store Finasteride?

Store Finasteride at room temperature between 59˚F to 86˚F (15˚C to 30˚C).

Keep Finasteride in a closed container and keep Finasteride tablets dry (protect from moisture).

Keep Finasteride and all medicines out of the reach of children.

General information about the safe and effective use of Finasteride.

Medicines are sometimes prescribed for purposes other than those listed in this Patient Information. Do not use Finasteride for a condition for which it was not prescribed. Do not give Finasteride to other people, even if they have the same symptoms you have. It may harm them.