Are You Prone to Hair Loss?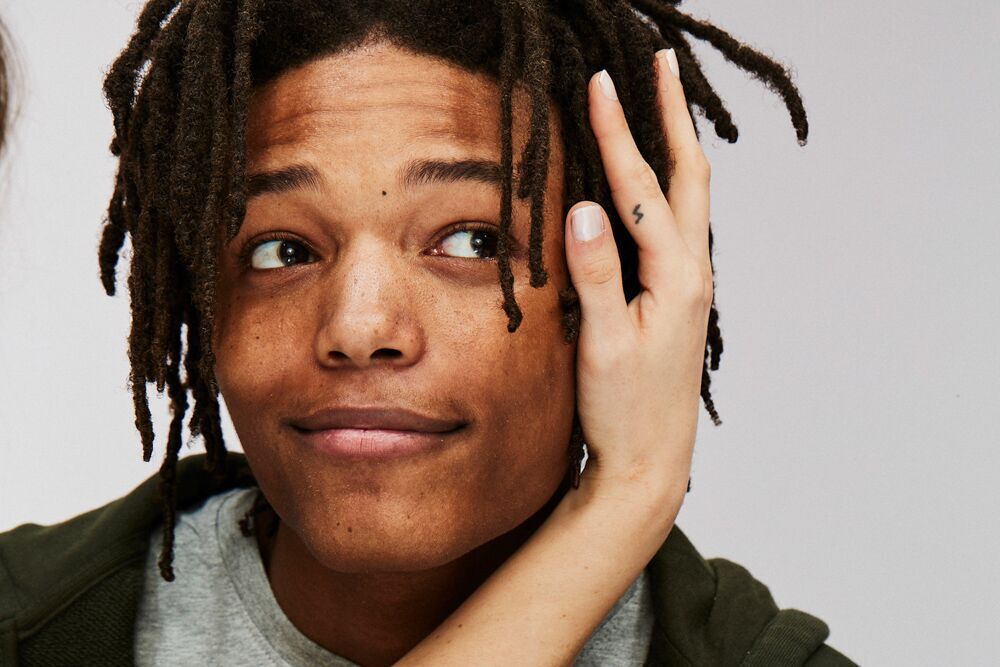 Are the effects of male pattern baldness getting you down? For what it's worth, hair loss is something that happens to the best of us. And while it's perfectly normal to feel stressed about the thought of losing your hair, you should know that you're not alone in this fight against hair loss.
Today we're going to confront the issue of male pattern baldness together. More specifically, we're going to cover all of the things that can contribute to balding, and unfortunately, many of these factors are out of your control.
So, what makes you prone to hair loss? Being a man, for starters. That's not to say that every man will go bald or develop the infamous cul-de-sac hairstyle, but roughly 70% of men will experience hair loss on some scale in their lives, even if it's just minor thinning. Not because of their age or because of the haircare products they use, but because of a hormone known as dihydrotestosterone (DHT) which has been linked to male pattern baldness.
Yes, you've read that right. A derivative of testosterone, that wonderful chemical that gives us a strong libido and helps us build muscle mass (among other things!) also plays a role in hair loss.
Are You Susceptible to Hair Loss?
Truth be told, it's hard to say. There's a lot of factors that play a role in whether we develop male pattern baldness or not, and just because you have testosterone doesn't mean that you're necessarily going to lose your hair. With that said, there are some signs that could indicate that you're susceptible to balding.
Let's take a look at a few of them.
1. You're constantly stressed out
While stress doesn't directly tie into male pattern baldness, it most certainly does play a role in hair loss. If you're already losing your hair and you go through a stressful period in your life, you could actually cause your hair to shed at a much quicker rate than it normally would.
If that's not reason enough to try and relax, stress can also cause its own type of hair shedding. Yes, all of those nights that you stay awake worrying about things you can't control might be one of the things causing you to lose your hair. The good news about stress-related hair loss, however, is that it usually grows back a couple of months after you've calmed down.
2. You're not eating properly
Take some vitamins, increase your fruits and vegetables, and double up on those leafy greens. If you're not getting enough nutrition then your hair is one of the first places to be affected. And it kind of makes sense when you think about it. Why would your body be using all of its energy to protect your hair when it's not getting enough nutrients to ensure its systems are running properly?
You may also want to look into taking a vitamin supplement called Biotin or vitamin B complex. It's been shown to create stronger and healthier hair, skin, and fingernails.
3. Your other family members are bald
There are a lot of tall tales regarding male pattern baldness and family. Some people say that it comes from your father, others say that it depends on the men on your mother's side of the family. Take the specifics with a grain of salt, but understand that hair loss can be hereditary. While we may not know exactly who you get it from, there is a genetic component to male pattern baldness – someone is passing it down! If most of the men in your family have lost their hair, there's a good chance that you could experience hair loss as well. Still, even then it's not 100%.
4. You have a hairstyles that causes stress on the scalp
The condition known as traction alopecia is more common than you might think, and worst of all is that it's completely preventable. To understand how this type of balding happens, you need to first understand that your scalp is sensitive and is prone to damage over time. Things like excessive scratching, rubbing, and brushing can all damage your hair follicles and inhibit hair growth. Additionally, a number of popular hairstyles that involve pulling can also damage hair follicles over time, causing irreversible hair loss. Braids, man buns, pony tails, and dreadlocks are all linked to traction alopecia because of the stress they put hair follicles through.
Growing Older and Keeping Your Hair
As you can see, there are a lot of things that can cause hair loss. The best way to decrease your chances of balding is to eat healthy and take care of your hair. That means going easy on the shampoos, conditioners, and hair care products that are loaded with harsh chemicals. Instead, opt for products that are designed to promote hair growth and are gentler on the hair.
If you're experiencing male pattern baldness, you'll want to take additional steps designed to disrupt the production of DHT in your hair follicles and promote hair regrowth. Fortunately, there are a number of different products out there that, when used together, make a great treatment regimen for male pattern baldness. Treatments such as minoxidil and finasteride, when combined with biotin and DHT-blocking hair care products, have shown to be quite successful in helping men overcome their problems with balding. Both are approved by the FDA for treating male pattern baldness, and research has shown that when used together over a 20-week period, finasteride and minoxidil produced significant elevation and density of hair.
Now that you know a little bit about what causes hair loss, you're more likely to catch it before it gets out of control. Remember, the earlier that you catch male pattern baldness, the better your chances are of reversing its effects and holding onto a youthful, luxurious head of hair. Just make sure that you're willing to devote the time and patience to treatment regimens – results don't happen overnight, after all. You should expect the fight against hair loss to be a long-term one. But as long as you're dedicated and stick to your program, you'll probably be satisfied with the results.
Important Safety Information
IMPORTANT SAFETY INFORMATION
Finasteride is for use by MEN ONLY and should NOT be used by women or children.
Read this Patient Information before you start taking Finasteride and each time you get a refill. There may be new information. This information does not take the place of talking with your healthcare provider about your medical condition or treatment.
What is Finasteride?
Finasteride is a prescription medicine used for the treatment of male pattern hair loss (androgenetic alopecia).
It is not known if Finasteride works for a receding hairline on either side of and above your forehead (temporal area).
Finasteride is not for use by women and children.
Who should not take Finasteride?
Do not take Finasteride if you:
are pregnant or may become pregnant. Finasteride may harm your unborn baby.

Finasteride tablets are coated and will prevent contact with the medicine during handling, as long as the tablets are not broken or crushed. Females who are pregnant or who may become pregnant should not come in contact with broken or crushed Finasteride tablets.
If a pregnant woman comes in contact with crushed or broken Finasteride tablets, wash the contact area right away with soap and water. If a woman who is pregnant comes into contact with the active ingredient in Finasteride, a healthcare provider should be consulted. If a woman who is pregnant with a male baby swallows or comes in contact with the medicine in Finasteride, the male baby may be born with sex organs that are not normal.

are allergic to any of the ingredients in Finasteride. See the end of this leaflet for a complete list of ingredients in Finasteride.

What should I tell my healthcare provider before taking Finasteride? Before taking Finasteride, tell your healthcare provider if you:

have any other medical conditions, including problems with your prostate or liver

Tell your healthcare provider about all the medicines you take, including prescription and nonprescription medicines, vitamins, and herbal supplements.

Know the medicines you take. Keep a list of them to show your healthcare provider and pharmacist when you get a new medicine.

How should I take Finasteride?

Take Finasteride exactly as your healthcare provider tells you to take it.
You may take Finasteride with or without food.

If you forget to take Finasteride, do not take an extra tablet. Just take the next tablet as usual.

Finasteride will not work faster or better if you take it more than once a day.

What are the possible side effects of Finasteride?

decrease in your blood Prostate Specific Antigen (PSA) levels. Finasteride can affect a blood test called PSA (Prostate-Specific Antigen) for the screening of prostate cancer. If you have a PSA test done you should tell your healthcare provider that you are taking Finasteride because Finasteride decreases PSA levels. Changes in PSA levels will need to be evaluated by your healthcare provider. Any increase in follow-up PSA levels from their lowest point may signal the presence of prostate cancer and should be evaluated, even if the test results are still within the normal range for men not taking Finasteride. You should also tell your healthcare provider if you have not been taking Finasteride as prescribed because this may affect the PSA test results. For more information, talk to your healthcare provider.

There may be an increased risk of a more serious form of prostate cancer in men taking finasteride at 5 times the dose of Finasteride.

The most common side effects of Finasteride include:

decrease in sex drive
trouble getting or keeping an erection

a decrease in the amount of semen

The following have been reported in general use with Finasteride:

breast tenderness and enlargement. Tell your healthcare provider about any changes in your breasts such as lumps, pain or nipple discharge.
depression;
decrease in sex drive that continued after stopping the medication;
allergic reactions including rash, itching, hives and swelling of the lips, tongue, throat, and face;
problems with ejaculation that continued after stopping medication;
testicular pain;
difficulty in achieving an erection that continued after stopping the medication;
male infertility and/or poor quality of semen.

in rare cases, male breast cancer.

Tell your healthcare provider if you have any side effect that bothers you or that does not go away.

These are not all the possible side effects of Finasteride. For more information, ask your healthcare provider or pharmacist. Call your doctor for medical advice about side effects. You may report side effects to FDA at 1-800-FDA1088.

How should I store Finasteride?

Store Finasteride at room temperature between 59˚F to 86˚F (15˚C to 30˚C).

Keep Finasteride in a closed container and keep Finasteride tablets dry (protect from moisture).

Keep Finasteride and all medicines out of the reach of children.

General information about the safe and effective use of Finasteride.

Medicines are sometimes prescribed for purposes other than those listed in this Patient Information. Do not use Finasteride for a condition for which it was not prescribed. Do not give Finasteride to other people, even if they have the same symptoms you have. It may harm them.