3 Signs of Balding You Might Not Have Considered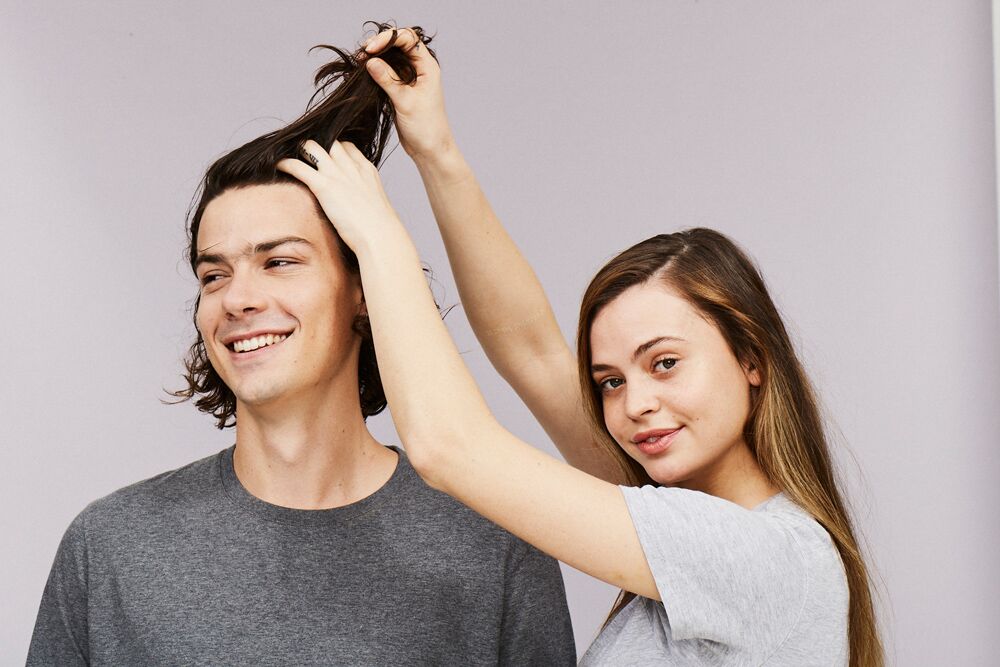 The most important step to fighting hair loss is to take a proactive approach. The sooner you take action, the better your chances are of keeping a full head of hair. The longer you wait to take action against male pattern baldness, the less effective your treatment program is likely to be – especially in the late stages of male pattern baldness. For this reason, it's important that you're able to spot early signs of balding so that you don't wake up one day and notice that half your hair's gone.
How to Notice the Warning Signs of Balding
The truth is that many men let male pattern baldness go unchecked until they've reached a critical stage in their hair loss – even when the signs are all there. But why would someone ignore balding until it's too late? More often than not, because of denial. Many young men associate hair loss with middle age and refuse to believe that a youthful person under 40 could be balding. Unfortunately, they're wrong. Male pattern baldness can happen to anyone, even people in their late teens and early 20s.
So how do we catch hair loss before it gets out of control? The first step is to be realistic. Denial isn't going to get you anywhere. Once you come to terms with the fact that your hairline is receding and your hair is thinning out, you can take action.
Also, you need to know the warning signs that often go unnoticed. If you see any of these early signs of balding, you may want to consider starting a hair loss treatment program.
1. Your Hair Is Acting Differently
Unless you've kept a buzz cut for most of your adult life, you should have a good idea of how to brush and sculpt your hair. You know where cowlicks are, where that swirl on your crown is, and how to style your hair so that it doesn't stick up or curl in specific areas. Generally speaking, the way your hair behaves will only change for two reasons: you're using products or chemical straighteners or you're experiencing hair loss.
If you've not switched to a new type of shampoo, conditioner , or styling agent and suddenly your hair is not styling the way it used to, you may be in the early stages of balding. While that's probably not something that you want to hear, there is a bright side to it. When you catch it this early, you have a far greater chance of stopping it before it becomes noticeable.
2. There's Hair Everywhere!
Shedding hair is natural. The average person loses between 50 and 100 hairs every day, so don't freak out when you find a couple strands of your hair lying around. Keeping that in mind, just make a mental note of how many hairs you find in your hairbrush or sitting at the bottom of the shower. If you start noticing more than usual, you might want to start looking into hair loss treatment regimens.
3. Your Head's Getting Bigger
Is your forehead looking a slightly larger? Take a look at the Norwood Scale to see if your hairline has changed over the years. If so, you might be getting the dreaded receding hairline. Realistically, it's hard to keep track of your hairline when you look at yourself in the mirror every day, so look at some photos of yourself from a couple years back and compare your hairline to how it is now.
For most guys, the hairline recession starts on the corners of the head and eventually spreads until it forms a narrow widow's peak. When left unchecked, a receding hairline could eventually grow into a bigger problem that leaves much of your head with a profound M-shaped balding pattern.
I've Noticed Early Signs of Balding. Now What?
First off, don't panic. Medical science has come a long way since the days of our fathers and grandfathers. Just because you've noticed that some of your hair is falling out doesn't mean that you're going to go bald. Now that you've caught it in time, it's important that you take a committed approach to combating hair loss. For some people, that means making a lifestyle choice: dht blocking shampoos and conditioners, eating healthier foods, and exploring medical options.
Two of the most common treatments are minoxidil and finasteride. Both are scientifically proven and FDA approved to help prevent hair loss in the majority of men, and some people can even regrow hair they've lost. The trick to success with these treatment programs is to be patient and committed. Results don't appear overnight, they take several months.
Important Safety Information
IMPORTANT SAFETY INFORMATION
Finasteride is for use by MEN ONLY and should NOT be used by women or children.
Read this Patient Information before you start taking Finasteride and each time you get a refill. There may be new information. This information does not take the place of talking with your healthcare provider about your medical condition or treatment.
What is Finasteride?
Finasteride is a prescription medicine used for the treatment of male pattern hair loss (androgenetic alopecia).
It is not known if Finasteride works for a receding hairline on either side of and above your forehead (temporal area).
Finasteride is not for use by women and children.
Who should not take Finasteride?
Do not take Finasteride if you:
are pregnant or may become pregnant. Finasteride may harm your unborn baby.

Finasteride tablets are coated and will prevent contact with the medicine during handling, as long as the tablets are not broken or crushed. Females who are pregnant or who may become pregnant should not come in contact with broken or crushed Finasteride tablets.
If a pregnant woman comes in contact with crushed or broken Finasteride tablets, wash the contact area right away with soap and water. If a woman who is pregnant comes into contact with the active ingredient in Finasteride, a healthcare provider should be consulted. If a woman who is pregnant with a male baby swallows or comes in contact with the medicine in Finasteride, the male baby may be born with sex organs that are not normal.

are allergic to any of the ingredients in Finasteride. See the end of this leaflet for a complete list of ingredients in Finasteride.

What should I tell my healthcare provider before taking Finasteride? Before taking Finasteride, tell your healthcare provider if you:

have any other medical conditions, including problems with your prostate or liver

Tell your healthcare provider about all the medicines you take, including prescription and nonprescription medicines, vitamins, and herbal supplements.

Know the medicines you take. Keep a list of them to show your healthcare provider and pharmacist when you get a new medicine.

How should I take Finasteride?

Take Finasteride exactly as your healthcare provider tells you to take it.
You may take Finasteride with or without food.

If you forget to take Finasteride, do not take an extra tablet. Just take the next tablet as usual.

Finasteride will not work faster or better if you take it more than once a day.

What are the possible side effects of Finasteride?

decrease in your blood Prostate Specific Antigen (PSA) levels. Finasteride can affect a blood test called PSA (Prostate-Specific Antigen) for the screening of prostate cancer. If you have a PSA test done you should tell your healthcare provider that you are taking Finasteride because Finasteride decreases PSA levels. Changes in PSA levels will need to be evaluated by your healthcare provider. Any increase in follow-up PSA levels from their lowest point may signal the presence of prostate cancer and should be evaluated, even if the test results are still within the normal range for men not taking Finasteride. You should also tell your healthcare provider if you have not been taking Finasteride as prescribed because this may affect the PSA test results. For more information, talk to your healthcare provider.

There may be an increased risk of a more serious form of prostate cancer in men taking finasteride at 5 times the dose of Finasteride.

The most common side effects of Finasteride include:

decrease in sex drive
trouble getting or keeping an erection

a decrease in the amount of semen

The following have been reported in general use with Finasteride:

breast tenderness and enlargement. Tell your healthcare provider about any changes in your breasts such as lumps, pain or nipple discharge.
depression;
decrease in sex drive that continued after stopping the medication;
allergic reactions including rash, itching, hives and swelling of the lips, tongue, throat, and face;
problems with ejaculation that continued after stopping medication;
testicular pain;
difficulty in achieving an erection that continued after stopping the medication;
male infertility and/or poor quality of semen.

in rare cases, male breast cancer.

Tell your healthcare provider if you have any side effect that bothers you or that does not go away.

These are not all the possible side effects of Finasteride. For more information, ask your healthcare provider or pharmacist. Call your doctor for medical advice about side effects. You may report side effects to FDA at 1-800-FDA1088.

How should I store Finasteride?

Store Finasteride at room temperature between 59˚F to 86˚F (15˚C to 30˚C).

Keep Finasteride in a closed container and keep Finasteride tablets dry (protect from moisture).

Keep Finasteride and all medicines out of the reach of children.

General information about the safe and effective use of Finasteride.

Medicines are sometimes prescribed for purposes other than those listed in this Patient Information. Do not use Finasteride for a condition for which it was not prescribed. Do not give Finasteride to other people, even if they have the same symptoms you have. It may harm them.